Chesapeake Corporate Advisors Serves as Exclusive Financial Advisor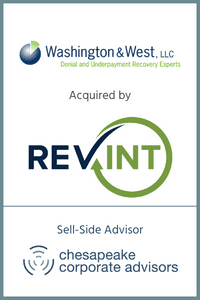 Baltimore, MD – October 15, 2019 – Chesapeake Corporate Advisors ("CCA") is pleased to announce that it has served as exclusive financial advisor to Washington & West LLC ("W&W") in its sale to Revint Solutions LLC ("Revint"). Washington & West is recognized as the industry "gold standard" for healthcare-related denials and appeals management.
Founded in 2002 by attorneys Linda Fotheringill and Tracy Wade with two offices in the Baltimore-region, the W&W team has a long-standing track record of serving leading hospitals and health systems. By leveraging its interdisciplinary team of clinicians, attorneys, certified coders, and recovery specialists with its proprietary Quantum Appeals technology platform, the Company has a proven history of industry leading recovery rates.
"We are incredibly excited to be welcoming the Washington & West team to the Revint family," commented Roger Davis, Chief Executive Officer of Revint Solutions. "Denials management is an acute and growing pain point for provider organizations, and we believe this combination will enable us to deliver even greater results and a more comprehensive 'safety net' for our client partners."
Allen Stott, CCA Managing Director who led the engagement along with Founder and CEO Charlie Maskell, Director Tim Brasel, and Associate Kyle Jefferson, commented: "Linda and Tracy did an outstanding job building a high-growth business, due to their superior performance, resulting in increasing revenue with existing customers as well as continuously adding new customers. This enabled CCA to create a highly-competitive process, where ultimately Revint best understood the strategic value and opportunity to expand W&W denials recovery offering across Revint's large existing health system customer base."
Chesapeake Corporate Advisors, LLC (CCA) is a boutique investment banking and corporate advisory firm, founded in 2005, committed to serving investor-owned and closely held emerging growth and middle market companies. CCA provides strategic advisory services (value creation), investment banking services (value realization), and valuation & financial opinions to companies with revenues generally between $10 million and $200 million. For more information about Chesapeake Corporate Advisors, please visit the website at www.ccabalt.com or call 410.537.5988