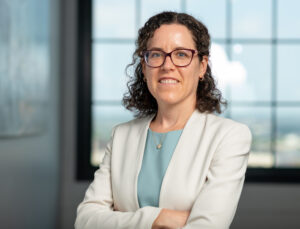 Chesapeake Corporate Advisors is pleased to announce that Katie Kieran has joined the team as a Vice President in the firm's investment banking practice.
Chesapeake Corporate Advisors, which provides personalized investment banking and strategic advisory services, is known for helping business owners in the Mid-Atlantic region achieve the best possible value for their companies. Katie's expertise advising on M&A transactions will make her a valuable resource to clients seeking to realize value.
"Katie is a strategic thinker and experienced transaction advisor, said Allen Stott, Managing Director. "Her addition to the team makes us confident we will continue to deliver the highest level of personalized investment banking and strategic advisory services to help achieve successful outcomes for our clients."
Prior to joining Chesapeake Corporate Advisors, Katie was the CEO of Diamond Strategic Advisors, a firm she founded in 2014 to provide clients with support on M&A transactions and other strategic projects.
Previously, Katie served as a Vice President at Sagent Advisors, a boutique investment bank, where she worked on numerous transactions during her five-year tenure with an aggregate transaction value of $1.3 billion.
In her new role, Katie will apply her analytical skills and client relationship experience to lead deal execution, due diligence, and analysis on CCA transactions.
"I'm excited to work with a firm that shares my commitment to providing value to business owners," said Katie. "CCA has admirable clients and a collaborative team that truly cares about each business they partner with. Together, I know we can guide our clients' businesses to attain new, desired results."
Chesapeake Corporate Advisors, LLC (CCA) is a boutique investment banking and corporate advisory firm, founded in 2005, committed to serving investor-owned and closely-held emerging growth and middle market companies. CCA provides strategic advisory services (value creation), investment banking services (value realization), and valuation & financial opinions to companies with revenues generally between $10 million and $200 million.