Chesapeake Corporate Advisors Serves as Exclusive Financial Advisor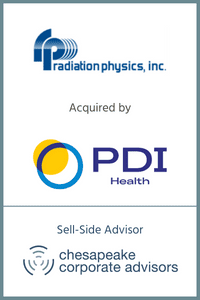 Baltimore, MD – July 29, 2021 – Chesapeake Corporate Advisors (CCA) is pleased to announce it has served as the exclusive financial advisor to Radiation Physics, Inc. (RPI), a leader in digital, portable diagnostic studies, in its sale to PDI Health, a future-forward portable diagnostics company providing next-generation technology for the highest quality care.
Headquartered in Beltsville, Maryland, RPI has been a leader in the Maryland and D.C. area providing high-touch, quality mobile imaging services for over four decades. The RPI team is excited to continue providing the same customer and patient-focused service as part of PDI's mid-Atlantic operations.
Kenneth L. Miller, President and CEO of Radiation Physics said, "I am so pleased that the CCA team managed the sale of Radiation Physics, Inc. to PDI Health. Allen Stott was fantastic to work with, a true professional who is totally devoted to helping his clients ease through the sale process with the best possible outcome."
The CCA investment banking team consisted of Allen Stott, Tim Brasel, and Nate Keeney. Stott noted, "The CCA Team is ecstatic to have played a part in guiding Ken and the Radiation Physics Team through this transaction, and to help ensure the Company found a great partner to continue RPI's decades-long legacy providing the assisted living and skill nursing communities with best in class mobile imaging services."
Adam Zarren and Jason Harmon from Zarren Law Group (ZLG) served as legal advisors to RPI.
About Radiation Physics
Radiation Physics, Inc. (RPI) has led the Washington D.C. and Baltimore area in high-quality, portable diagnostic studies for the last 40 years. RPI's dedicated service to the geriatric community encouraged them to continually innovate and update their procedures and equipment, putting them on the leading edge of geriatric and diagnostic care. Today, RPI offers unparalleled service to nursing homes, assisted living residences, hospices, hospitals, detention centers, Home Healthcare, and Private agencies 24 hours a day, 365 days a year. For more, visit https://rpixray.com/.
About PDI Health
PDI Health provides mobile imaging services including x-ray services, ultrasounds, cardiovascular imaging, and more to LTC facilities, retirement communities, private residences, and correctional facilities around the nation. PDI taps breakthrough technology to provide portable, powerful imaging with the intent to provide next-level care to patients. PDI's combination of tech-powered, expert-led, and user-optimized services has changed the way patients view portable healthcare. Continuously innovating, PDI leads the portable diagnostic industry with faster responses, better technology, and superior medical expertise. For more, visit https://pdihealth.com/.
About Chesapeake Corporate Advisors
Chesapeake Corporate Advisors is a boutique investment banking and corporate advisory firm providing strategic advisory services (value creation), investment banking services (value realization), and valuation & financial opinions to companies with revenues generally between $10 million and $200 million. For more, visit www.ccabalt.com or call 410.537.5988.
If you're considering selling your company, see "Be Ready for When the Opportunity Presents Itself" for the key components of positioning yourself to enter the market.