Chesapeake Corporate Advisors Serves as Exclusive Financial Advisor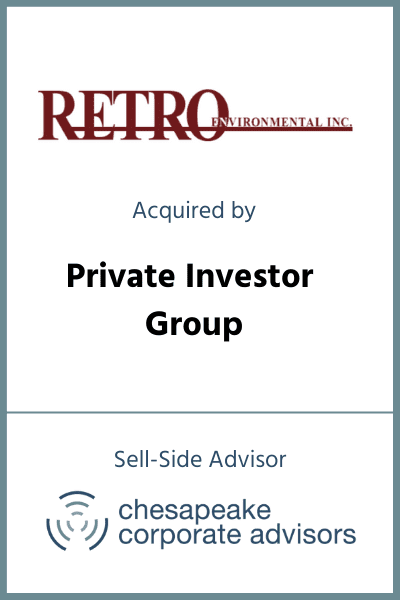 Baltimore, MD – June 14, 2022 – Chesapeake Corporate Advisors ("CCA") is pleased to announce that it has served as the exclusive financial advisor to Retro Environmental, Inc., facilitating the company's sale to REAC, an Atlanta-based investor group with significant experience in the environmental industry.
Based in Sykesville, Maryland, Retro Environmental brings to its customers more than 30 years as a leading provider of environmental specialty contracting services, including asbestos and lead abatement, mold and hazardous materials remediation, demolition and building razing, and saw cutting. The acquiring company's extensive industry knowledge and experience will help Retro advance its strategic plan, providing the additional resources needed to unleash innovation and power the company's future growth.
"In bringing our two companies together, Allen Stott and the CCA team have been instrumental in guiding us throughout the complex process, culminating in the successful transaction to make our organization even stronger," said Maria Gurecki, President of Retro Environmental. "Through this transaction, we are reinforcing our long-standing commitment to industry excellence, exceptional service, and to preserving a company culture that respects and values all our employees organization-wide. We look forward to embarking on this new chapter and to continuing to deliver exceptional service to our customers." 
Scheduled to retire in 2023, Gurecki will remain in her current role as Retro's President throughout the months ahead as the company transitions to its new management team.
"It has been a pleasure to work with Maria Gurecki and the entire Retro Environmental leadership team to complete this transaction," said Allen Stott, Managing Director for CCA. "The buyer is a great fit for Retro's customers and employees, bringing to all company stakeholders a depth of industry experience and knowledge, and a shared mission and vision for its future."
About Retro Environmental
Retro Environmental was founded in 1990 by a group of professionals with the purpose of establishing a diverse company that maintains the highest standards of safety and workmanship while utilizing industry-leading technology to provide environmental remediation and demolition services. Project experience includes commercial buildings, shopping centers, hospitals, industrial facilities, private and public school systems, universities, and military facilities throughout the mid-Atlantic region. For more information, visit https://www.retroenviroinc.com/. 
About Chesapeake Corporate Advisors
Chesapeake Corporate Advisors is a boutique investment banking and corporate advisory firm providing strategic advisory services (value creation) and investment banking services (value realization) to companies with revenues between $10 million and $200 million. For more information, visit www.ccabalt.com or call 410.537.5988.