When Aidan Olmstead first joined CCA, he was immediately impressed by the firm's camaraderie and "desire to do anything to help clients." As an analyst for CCA, Aidan fits right into the culture. 
An expert in financial modeling, accounting, and business research, Aidan is responsible for preparing financial projections, business valuations, investment memoranda, and marketing materials for clients, and for collaborating on a wide range of internal initiatives as well. "I appreciate the opportunity to work closely with our incredible senior staff members and clients," he said. 
A graduate of Loyola University Maryland and Phi Beta Kappa member, Aidan holds a master's degree in Business Administration from the university's Sellinger School of Business and Management and undergraduate degrees in International Business, B.S. and Global Studies, B.A. His background also includes experience as a summer analyst intern with Morgan Stanley's Institutional Securities Group. 
On the personal side:
A former D-1 Lacrosse player and captain for Loyola University Maryland, Aidan was twice named the Patriot League's Men's Lacrosse Scholar-Athlete of the Year. In addition, he was named the Patriot League's 2022 Male Scholar-Athlete of the Year. Today, he enjoys giving back as a member of the Harlem Lacrosse Foundation and mentoring for young student athletes. In his free time, Aidan is an avid golfer. "My favorite golf trip of all time was with my father at Pinehurst Resort in North Carolina," he said. Aidan also enjoys spending time with his family and cooking.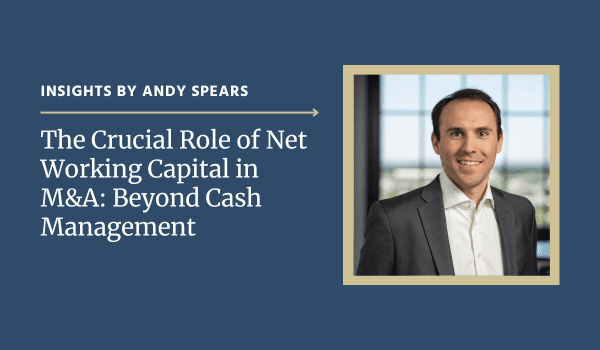 For many entrepreneurs, cash is king. Managing cash flow effectively can make or break a business. It ensures bills are paid on time, salaries are met, and opportunities can be seized. However, when it comes to M&A, cash alone does not tell the full story. In...
read more