Charlie Maskell founded CCA to provide middle market businesses with the support they need at every stage. "Not every client is ready to sell or in the best position to sell," he says. "We use a comprehensive process to determine the company's current value, recommend strategically important ways to increase the value of the company over time, and prepare the business for sale, when the owners are ready, to result in the optimal valuation and terms."
Charlie leads the CCA teams dedicated to helping businesses enhance shareholder value and position themselves to sell to a strategic buyer, recapitalize with a private equity investor or transition through an internal transaction.
With decades of experience executing countless deals across a range of industries, Charlie achieves exceptional outcomes for his clients by listening and understanding their short-term and long-term objectives… When a client told Charlie that "CCA guided us through the sale of our business with care and skill," it spoke to the client-centered culture he's worked to develop and the high-performing team he's assembled, all singularly focused on client satisfaction.
Valued by clients for his practical approach, Charlie served as the Advisory Practice Leader for the Mid-Atlantic Region of McGladrey and spent many years in partner roles at regional accounting, audit, and consulting firms before founding CCA. He holds a B.A. in Accounting from Loyola University Maryland and a Certificate in Business Strategy from the University of Chicago Graduate School of Business and is a Certified Business Appraiser and Certified Mergers and Acquisitions Advisor.
On the personal side…
When Charlie has some downtime, he enjoys playing golf and spending time with his family. Though he lives in Annapolis, he's deeply committed to the city of Baltimore—which is evident in the time he devotes to serving on the boards of Mercy Medical Center and Cristo Rey Jesuit High School, as well as his past board positions with Calvert Hall College, Loyola University Sellinger School of Business, and the B&O Museum.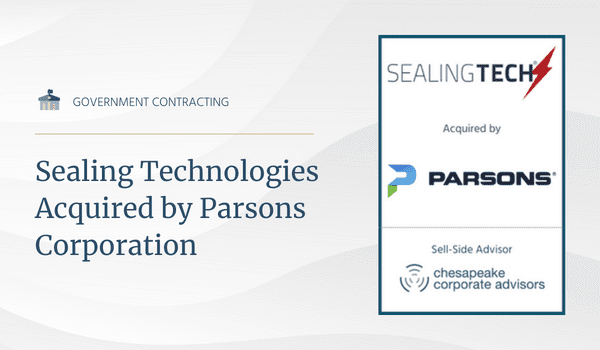 Chesapeake Corporate Advisors Serves as Exclusive Financial Advisor Baltimore, MD - September 13, 2023 - Chesapeake Corporate Advisors ("CCA") is pleased to announce it has served as the exclusive financial advisor to Sealing Technologies, Inc. ("SealingTech"...
read more