As a Baltimore native, Frank Ihle has a strong interest in seeing local companies succeed—making CCA the right place to begin his post-college career. "I love the Baltimore area, and I want to help local businesses and the community thrive," he says.   
Frank supports the CCA corporate advisory team in developing business valuations and conducting strategic assessments that help companies determine how to get where they want to go. He particularly enjoys financial modeling, a skill he began developing in college. As one of five Clemson University students chosen to compete in the CFA Global Research Challenge, Frank used extensive financial models to prepare an Initiation of Coverage report on a publicly traded company. He's since completed the Adventis Financial Modeling Bootcamp and is currently pursuing a Financial Modeling Certification.  
A strong attention to detail, exceptional communication skills, a proactive approach, and a positive outlook combine to make Frank a valued and effective member of CCA's corporate advisory team. He holds a B.S. in financial management, with a corporate finance concentration and an accounting minor, from Clemson University. 
On the personal side… 
Frank enjoyed lending his time and talents as a volunteer for Habitat for Humanity, building homes for needy families, and appreciates that CCA encourages the community service work he values. An avid sports fan who previously headed up the Clemson's Men's Club Lacrosse organization, he follows local teams like the Ravens and Orioles as well as his alumni sports teams. Frank also enjoys playing golf, boating, and attending live music events.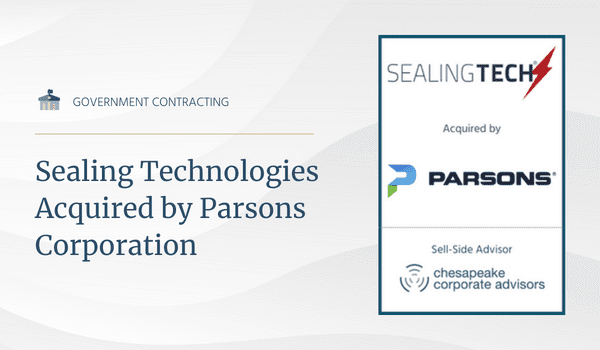 Chesapeake Corporate Advisors Serves as Exclusive Financial Advisor Baltimore, MD - September 13, 2023 - Chesapeake Corporate Advisors ("CCA") is pleased to announce it has served as the exclusive financial advisor to Sealing Technologies, Inc. ("SealingTech"...
read more