When business owners look for guidance on how to build value, Marty O'Neill responds by providing them with sound alternatives. "If C-level executives are equipped with timely and accurate information, they will make the right decisions," he says. 
CCA clients appreciate that Marty has walked a mile in their shoes, having spent 30 years as a business leader in companies of various industries and sizes before joining CCA as an advisor to middle market businesses. As one client remarked, "Marty has 'been there and done that,' so we trust he can help us through our journey to build a great company." A former CEO, COO, and CFO who's operated and exited from several businesses, Marty brings real-world operational and leadership experience to every engagement. 
Marty has guided hundreds of strategic plans and value-building roadmaps for businesses in many industries and currently leads our Government Contracting and Technology practice, drawing on his past leadership positions in this sector. A frequent speaker, creator of the Next Generation Leader Program, and author of four business books, Marty holds a B.S. in computer science from the University of Maryland and a M.B.A. from the Sellinger School of Business at Loyola University in Maryland. He is a member of the Fort Meade Alliance, the Howard County Chamber of Commerce, and GovConnects. 
On the personal side… 
Marty divides his personal time among a broad range of interests. Besides serving on his church pastoral council, he's written and recorded music and plays in a local band. A former rugby player, Marty was inducted into the Severn River Rugby Hall of Fame and serves on the group's alumni association.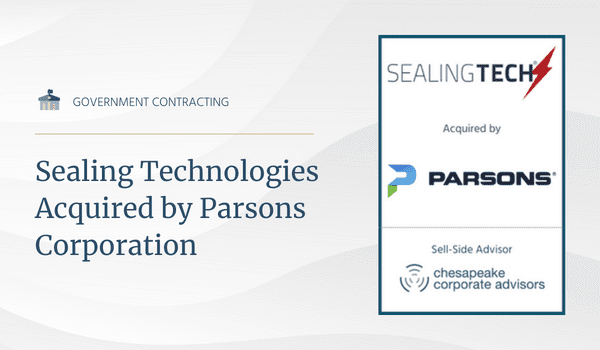 Chesapeake Corporate Advisors Serves as Exclusive Financial Advisor Baltimore, MD - September 13, 2023 - Chesapeake Corporate Advisors ("CCA") is pleased to announce it has served as the exclusive financial advisor to Sealing Technologies, Inc. ("SealingTech"...
read more