The opportunity to leverage her investment advisory internships was a strong draw for Meghan Daley to come on board at CCA as a new college graduate in 2017. "I really appreciated the chance to join a firm with a good collaborative culture," she says.
Meghan's previous experience with an investment advisory company and a firm specializing in debt and minority equity investments serves her well in her current role. She focuses much of her time assisting on the development of business valuations and strategic assessments, helping clients create and enhance business value, and developing ownership opportunity plans. And when business owners determine that it's the right time to sell, Meghan creates Confidential Information Memoranda, creates potential buyer lists, and provides virtual data room management support.
CCA's clients appreciate Meghan's insight, meticulous nature, and focus on delivering practical, results-driven solutions. She's been described as having the right mix of character, intelligence, and drive to ensure successful outcomes for the businesses she serves. Meghan graduated Summa Cum Laude with a B.A in business administration and a minor in information systems from Loyola University Maryland. In her time at Loyola, she was a member of Beta Gamma Sigma Honors Society, which honors students for their academic excellence. Meghan has received her Level 1 certification in the ASA Business Valuation program.
On the personal side… 
Meghan has yet to fulfill her bucket list wish of visiting all 50 states, but she did enjoy a semester studying in Cork, Ireland during college. "I continued my full course load and still had time to travel throughout Ireland, as well as to England, Germany, France, Holland, Switzerland, Scotland and the Czech Republic," she notes. When she's not cheering on the Boston sports teams she came to love while growing up in Connecticut, Meghan plays tennis and listens to country music.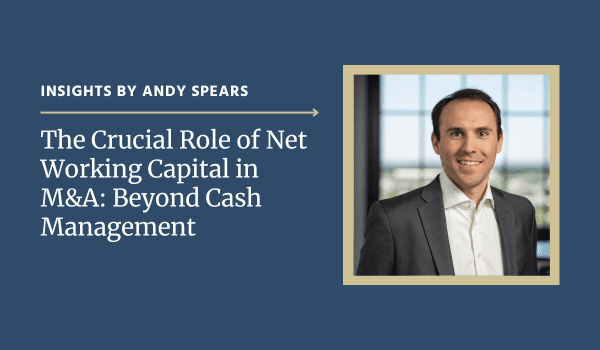 For many entrepreneurs, cash is king. Managing cash flow effectively can make or break a business. It ensures bills are paid on time, salaries are met, and opportunities can be seized. However, when it comes to M&A, cash alone does not tell the full story. In...
read more