When clients turn to CCA for help building the business's value and positioning the company for long-term success, Mike Zuidema takes an approach that's proven to achieve results. "When you're leading a business owner through the process of determining how to maximize value today and prepare for tomorrow, you have to be able to think strategically and creatively," he says. "That's why I appreciate CCA's culture of innovation."    
In leading corporate advisory engagements for our clients, Mike draws on his extensive experience and track record of serving middle-market and privately-held businesses—determining their valuations, helping them develop effective growth strategies, evaluating their liquidity options, and providing guidance on mergers, acquisitions, and management buyouts. He's especially adept at developing financial models, preparing business plans, conducting competitor and industry analyses, and leading strategic planning exercises.    
Mike's deep commitment to his work, his ability to tackle complex issues in an organized way, and his creativity in developing solutions to business challenges combine to make him a highly valued asset to our clients. He holds a B.A. in business administration and a M.B.A. with a concentration in finance from the Sellinger School of Business of Loyola University Maryland, and is working to become an Accredited Senior Appraiser of the American Society of Appraisers. 
On the personal side:  
Outside of work, Mike lends his time as a volunteer for several local non-profits. He serves on the board of the Abilities Network, a Towson-based group that helps individuals with disabilities achieve their goals, and he's involved with There Goes My Hero, a Baltimore-based organization that advocates for patients with blood cancers. Mike is also a self-described "sports nut."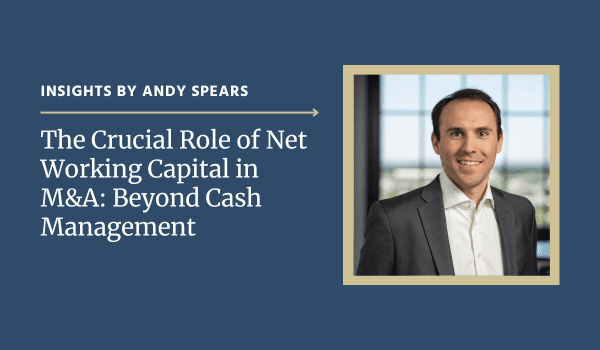 For many entrepreneurs, cash is king. Managing cash flow effectively can make or break a business. It ensures bills are paid on time, salaries are met, and opportunities can be seized. However, when it comes to M&A, cash alone does not tell the full story. In...
read more