"CCA is unique in its capacity for mentorship and a team of wonderfully friendly people," Nicholas Thornburg says. Those are among the many appealing qualities that drew him to join the firm soon after completing his college studies.
Nicholas provides financial analysis support for CCA's senior-level staff, helping to prepare financial projections, business valuations, and other deliverables that help our clients to create greater shareholder value and achieve successful deal outcomes. "I take pride in my ability to problem solve and to generate strong connections with my coworkers and the firm's clients," he notes.
Nicholas is a big believer in continued education and a focus on physical fitness as the means to drive ourselves forward personally and professionally. Valued for this energy, creativity, and insight, he holds a B.A. in finance from Loyola Maryland University.
On the personal side…
When Nicholas is not immersed in financial analysis, he's busy training and competing in Kung Fu. "I've been studying martial arts for more than eight years to progress my mental discipline and physical strength," he explains. He also serves as a volunteer at the SCALE Aphasia Program at The League for People with Disabilities, working with stroke survivors who often face communication challenges.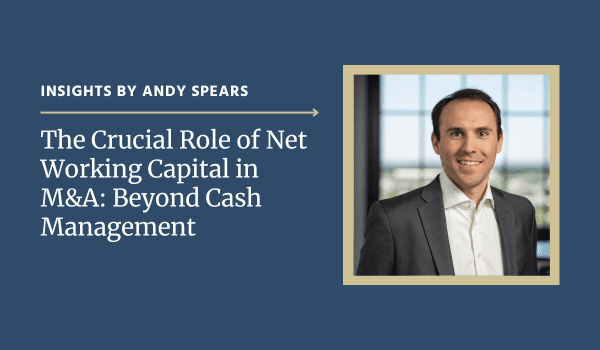 For many entrepreneurs, cash is king. Managing cash flow effectively can make or break a business. It ensures bills are paid on time, salaries are met, and opportunities can be seized. However, when it comes to M&A, cash alone does not tell the full story. In...
read more