Tim is adept at assessing what drives value in a business and positioning it effectively to buyers—enabling him to optimize the outcome of every sale transaction. "I like being able to provide a trusted perspective to our clients, working side by side with them from our first meeting through closing, leveraging my experience to provide an experienced sounding board at every step of the process," he says.
Tim's depth of experience in investment banking and financial advisory services proves invaluable to CCA's clients, who appreciate his knowledge, energy, and optimism. He has helped lead and guide the sale and acquisition of numerous middle market companies across a wide range of industries—including technology, health care, industrial services, and business services. His track record of success is evident: Throughout his career, he has advised on over 40 closed transactions totaling over $1 billion.
Tim leads the day-to-day management and execution of many of the deals CCA transacts for its clients—from developing presentations and marketing materials, to financial modeling, buyer identification and outreach, and due diligence support. He holds a B.S. in finance from the Perdue School of Business of Salisbury University, where he was a member of the men's basketball team, and a M.B.A. from the Robert H. Smith School of Business of the University of Maryland.
On the personal side… 
The two years Tim spent living in Germany growing up got him interested in seeing the world, so now he makes travel a priority during his downtime. He and his wife circled the globe for their honeymoon, starting at BWI Airport and flying west until they'd come full circle. "Between the demands of the job and the fact that we mostly travel using points and miles – we often book at the last minute," he says. They booked their most impromptu trip—spending New Year's 2019-2020 in Denmark—while driving to the airport.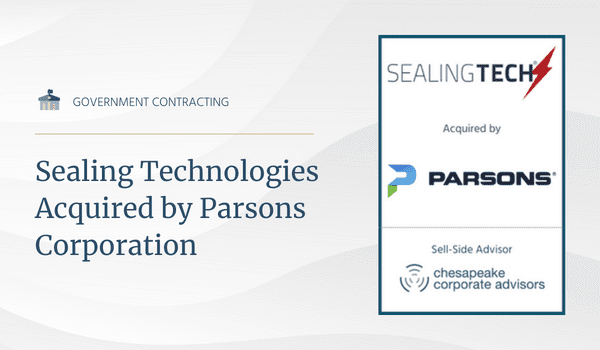 Chesapeake Corporate Advisors Serves as Exclusive Financial Advisor Baltimore, MD - September 13, 2023 - Chesapeake Corporate Advisors ("CCA") is pleased to announce it has served as the exclusive financial advisor to Sealing Technologies, Inc. ("SealingTech"...
read more