Chesapeake Corporate Advisors Serves as Exclusive Financial Advisor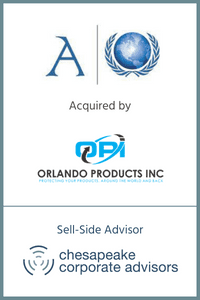 BALTIMORE, MD — July 27, 2016 — Charlie Maskell, CEO and Managing Director of Chesapeake Corporate Advisors (CCA) is pleased to announce that it has served as the exclusive financial advisor to Baltimore-based Orlando Products, Inc. in the successful acquisition of Absolute Packaging, LLC, based in Springfield, VA. The acquisition provides Orlando Products with additional manufacturing capacity and expands the company's presence in the Northern Virginia market.
Founded in 1992, Orlando Products is an industry leader in the design and manufacturing of reusable & disposable packaging including custom case inserts, flexible & rigid foam inserts, shipping containers, corrugated & folding boxes, and engineered polyethylene foam products. Additionally, Orlando Products, Inc. is one of the nation's largest providers of packaging supplies ranging from padded mailers, bubble wrap, flexible sheet foams, and inflatable packaging systems to Hexacomb sustainable packaging solutions.
Joe Orlando, owner of Orlando Products said: "We are excited to have the addition of Craig Butler, owner of Absolute Packaging, join our team and support our growth in Northern Virginia. This acquisition was certainly made easier with the help of CCA, whose advice and guidance was essential to achieving a successful outcome."
Allen Stott, CCA Managing Director and Peter Marconi, Analyst, directed the engagement. Mr. Stott commented: "We are extremely excited to have been able to advise Orlando Products on this strategic acquisition. We have had a close working relationship for years and look forward to supporting their growth strategy in the future.
About Chesapeake Corporate Advisors
Chesapeake Corporate Advisors, LLC is a boutique corporate advisory firm, founded in 2005, committed to serving investor-owned and closely held emerging growth and middle market companies. CCA provides Strategy (value creation) and Investment Banking (value realization) services to companies with revenues generally between $10 million and $200 million.