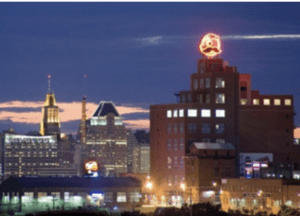 In November 2018, CCA outgrew its former space and moved into a larger, more accommodating space, while remaining within the historic Natty Boh Tower in Brewer's Hill.
Enabling Growth and Collaboration
While the new office space maintains the same industrial design, with modern touches that the Firm has become known for over the last
thirteen years, there is a new energy that comes from being on the top floor of the iconic Natty Boh Tower. The new space offers the same charm as the old space, but trades a loft style layout for a more open floor plan, with more collaborative and social spaces.
"This move will allow us to continue to expand over the coming years and attract additional talent as we continue to grow. The new office space allows our current team to work more collaboratively with one another and continue to provide the exceptional client service and experience that we are known for," notes Charlie Maskell when considering the Firm's growth strategy.
"It was a unanimous vote by employees to stay in the building. Everyone at CCA has a voice," Maskell says.
"We love this area, and we love Baltimore City. While we do work in Virginia, Pennsylvania, Chicago, Boston and New York, we wanted to be physically present in Baltimore. It's a key part of staying true to our commitment to Baltimore."
3600 O'Donnell Street
West Tower, Suite 810
Baltimore, MD 21224
Chesapeake Corporate Advisors, LLC (CCA) is a boutique investment banking and corporate advisory firm, founded in 2005, committed to serving investor-owned and closely held emerging growth and middle market companies. CCA provides strategic advisory services (value creation), investment banking services (value realization), and valuation & financial opinions to companies with revenues generally between $10 million and $200 million. For more information about Chesapeake Corporate Advisors, please visit the website at www.ccabalt.com or call 410.537.5988