Chesapeake Corporate Advisors Serves as Exclusive Financial Advisor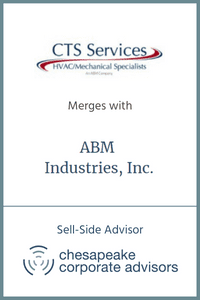 Charlie Maskell, Managing Member of Chesapeake Corporate Advisors (CCA) is pleased to announce that CCA has served as exclusive financial advisor to CTSServices LLC and Facility Support Services LLC ("CTS") in the sale to ABM Industries, Inc., a leading provider of integrated facility solutions with revenues of approximately $5 billion. Headquartered in Beltsville, MD, with over $35 million in annual revenue, CTS provides full-service mechanical and HVAC contracting, and integrated facilities management, including the management of mission critical facilities.
The ownership group of CTS successfully executed a focused strategy of providing high quality, bundled facility services, through a skilled workforce, many with security clearances to work in high-security environments. The result was CTS established themselves as one of the premier facilities solutions providers in the Baltimore/Washington region. ABM recognized this, "The acquisition of CTS further expands the comprehensive portfolio of HVAC, mechanical and energy solutions ABM delivers throughout the greater DC and Baltimore areas, as well as expands our capabilities in data centers and high availability facilities," said Tracy K. Price, President of ABM Building & Energy Solutions Group.
Beginning in 2011, CCA has provided CTS strategy and value creation advisory services, followed more recently by M&A Advisory services to lead the structured sale process and negotiation. Charlie Maskell and Michael Zuidema, Director, co-managed the value creation work for CTS since 2011.
The Transaction was co-managed by Allen Stott, Managing Director and Ishan Girdhar, Director. Mr. Maskell commented: "The entire CCA team is honored to have worked with the executive team of CTS to first focus on and grow the value of the company, and then to execute on the transaction to provide liquidity. The combination of the CTS platform into that of ABM will provide significant resources for the customers as well as industry leading opportunities for the CTS employees."