Chesapeake Corporate Advisors Serves as Exclusive Financial Advisor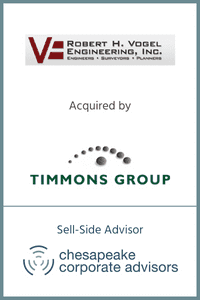 BALTIMORE, MD – September 12, 2017 — Chesapeake Corporate Advisors ("CCA") is pleased to announce that it has served as exclusive financial advisor to Robert H. Vogel Engineering, Inc. ("Vogel Engineering"), in the sale of Vogel Engineering to Timmons Group, Inc. ("Timmons"), a premier geospatial solutions company headquartered in Richmond, Virginia. Vogel Engineering is a leading civil engineering firm based in Ellicott City, Maryland.
Founded in 1991 by Rob Vogel, Vogel Engineering has established itself as a leader in Howard County and surrounding geographies. Vogel Engineering's primary services include civil engineering, land development and planning, and surveying. Its significant client base includes clients in the industrial, residential, institutional, and mixed-use sectors. Timmons focuses on civil, environmental, and geotechnical engineering, and also provides landscape architecture and surveying services. Both Vogel Engineering and Timmons are known for their commitment to customer satisfaction and providing the highest-quality services.
According to Brian Bortell, CEO of Timmons, "What initially attracted us to Vogel Engineering was their client centric approach to business. Their extensive portfolio is proof that they've provided creative and innovative solutions for complex regulations clients encounter, and we think this is a great fit for our firm." Timmons' Director of Marketing, Tim Klabunde, added, "This is a great opportunity for to put feet on the ground in Maryland.
About Chesapeake Corporate Advisors: Chesapeake Corporate Advisors, LLC (CCA) is a boutique corporate advisory firm, founded in 2005, committed to serving investor-owned and closely held emerging growth and middle market companies. CCA provides strategic advisory services (value creation), investment banking services (value realization), and valuation & financial opinions to companies with revenues generally between $10 million and $200 million. For more information about Chesapeake Corporate Advisors, please visit the website at www.ccabalt.com or call 410.537.5988.