Chesapeake Corporate Advisors Serves as Exclusive Financial Advisor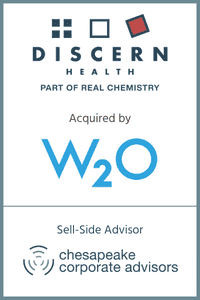 Baltimore, MD – August 11, 2020 – Chesapeake Corporate Advisors ("CCA") is pleased to announce that it has served as exclusive advisor to Discern Health LLC ("Discern") in its sale to W2O Group, a portfolio company of private equity firm New Mountain Capital.
Discern is a health economics and outcomes research (HEOR) consulting firm providing strategic direction and policy solutions to life sciences companies, government and nonprofit agencies, and health insurers. Discern advises leading national and multi-national healthcare organizations on the performance measures and innovative payment models that shape the market for their products and services.
W2O is the leading independent provider of analytics-driven, technology-enabled marketing and communications solutions to the healthcare sector. This is the sixth acquisition W2O has completed since the company announced its partnership with New Mountain Capital just over a year ago. With Discern as part of their organization, W2O will continue to raise the quality and depth of their data and analytics offering."
Value-based care is a key driver of health system change," said Guy D'Andrea, Founder and Managing Partner of Discern Health. "To be successful, health care companies need to integrate value-based strategy into each level of their organization and each stage of product development." Guy added: "CCA was a key partner with us at each stage of the process. They helped us understand the value of our company and then carefully managed each stage of the acquisition. Their guidance and support reduced our stress and got us across the finish line."
Allen Stott, a Managing Director with CCA who led the engagement along with Charlie Maskell, Founder and CEO and Heather Brake, Director, commented: "We greatly appreciate the opportunity to have worked closely with Guy D'Andrea and Tom Valuck, Partners at Discern both during the pre-transaction readiness stage and throughout the sale process. The two Companies quickly recognized the tremendous synergies by combining their complimentary service offerings. Guy's and Tom's commitment to their employees and customers throughout the process will ensure their continued future success."
Tim Hodge and Colleen Kline of Nelson Mullins, Riley & Scarborough, LLP served as legal advisor to Discern.
Chesapeake Corporate Advisors, LLC (CCA) is a boutique investment banking and corporate advisory firm, founded in 2005, committed to serving investor-owned and closely held emerging growth and middle market companies. CCA provides strategic advisory services (value creation), investment banking services (value realization), and valuation & financial opinions to companies with revenues generally between $10 million and $200 million. For more information about Chesapeake Corporate Advisors, please visit the website at www.ccabalt.com or call 410.537.5988