Chesapeake Corporate Advisors Serves as Exclusive Financial Advisor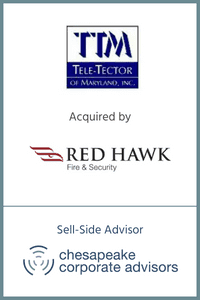 BALTIMORE, MD – September 26, 2017 — Chesapeake Corporate Advisors ("CCA") is pleased to announce that it has served as exclusive financial advisor to Tele-Tector of Maryland, Inc. ("Tele-Tector" or "TTM"), in the sale of Tele-Tector to Red Hawk Fire & Security ("Red Hawk") to grow its security presences in the Mid-Atlantic.
Based in Columbia, MD, Tele-Tector is recognized in the Baltimore/Washington metro area as a pioneer in the integrated security systems sector, serving some of the leading world-class health systems, universities, corporations and government agencies. Red Hawk designs, installs, tests, and integrates fire, life safety, and security systems. The acquisition allows Red Hawk to expand its geographical reach and to bolster its capabilities in security systems integration.
Allen Stott, Managing Director at CCA, led the engagement. Mr. Stott commented: "It was a real pleasure working with the shareholders of TTM for several years during both the pre-transaction planning and M&A process. I am very pleased with the outcome. Combining with Red Hawk's recent acquisition of Maryland-based Alarm Tech, a leading provider of fire and life safety solutions, creates great opportunity for TTM's employees and customers.
William Emshwiller, COO & Director of TTM said: "Bringing to market a company with a single owner is complex enough — but selling a firm that has multiple owners, each of whom needs to understand the acquisition process, poses more complexity, particularly coordinating and communicating between the sellers and the buyer. Allen Stott and the CCA Staff guided us throughout the process, from understanding company valuation, to buyer selection and due diligence to closing. In the end, TTM felt very comfortable about CCA's advice and recommendations that ultimately lead to a successful outcome".
"We are enthusiastic about welcoming Tele-Tector President, David Spilman and his team to Red Hawk to enhance our capabilities in one of the fastest growing markets in the country. In our search for companies that would be a good fit, TTM continued to rise to the top because of its culture of customer service and its ability to steadily grow its business profitably," said Mike McWilliams, President and CEO of Red Hawk.
About Chesapeake Corporate Advisors: Chesapeake Corporate Advisors, LLC (CCA) is a boutique corporate advisory firm, founded in 2005, committed to serving investor-owned and closely held emerging growth and middle market companies. CCA provides strategic advisory services (value creation), investment banking services (value realization), and valuation & financial opinions to companies with revenues generally between $10 million and $200 million. For more information about Chesapeake Corporate Advisors, please visit the website at www.ccabalt.com or call 410.537.5988.