Chesapeake Corporate Advisors Serves as Exclusive Financial Advisor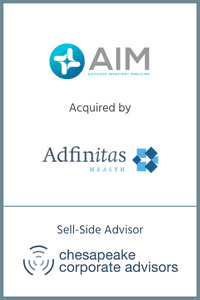 Baltimore, MD – April 26, 2018 – Chesapeake Corporate Advisors ("CCA") is pleased to announce that it has served as exclusive financial advisor to Adfinitas Health in its acquisition of Advanced Inpatient Medicine (AIM). Founded in 2007, Adfinitas is a physician-owned and managed company that provides high-quality, cost-effective medical and advisory services across the care continuum.
Prior to the acquisition, Adfinitas partnered with 14 hospitals and over 40 post-acute facilities in Maryland, Virginia and Michigan. Based in northeastern Pennsylvania, AIM is a regional private hospitalist group that expands Adfinitas's geographic footprint, adding four hospitals and several long-term acute care and skilled nursing facilities.
"We are very impressed with the caliber of AIM and the staff that Dr. Boyle, the founder, has assembled" said Eric Nass, President of Adfinitas. Dr. Boyle will remain as a minority owner and continue leading his nearly 50 employees. Mr. Nass added: "Working with CCA first to secure a senior debt facility including a dedicated acquisition line and then to advise and support our acquisition of AIM has been a very positive experience, and they contributed greatly to a successful outcome."
Chesapeake Corporate Advisors, LLC (CCA) is a boutique corporate advisory firm, founded in 2005, committed to serving investor-owned and closely held emerging growth and middle market companies. CCA provides strategic advisory services (value creation), investment banking services (value realization), and valuation & financial opinions to companies with revenues generally between $10 million and $200 million. For more information about Chesapeake Corporate Advisors, please visit the website at www.ccabalt.com or call 410.537.5988