Chesapeake Corporate Advisors Serves as Exclusive Financial Advisor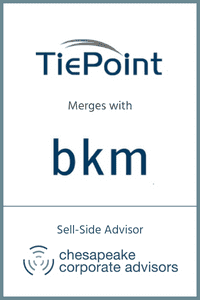 BALTIMORE, MD — October 9, 2015 — Chesapeake Corporate Advisors (CCA) is pleased to announce that it has served as exclusive financial advisor to Burdette, Koehler, Murphy & Associates, Inc. (BKM), in the successful merger of BKM's Mission Critical Facilities division (BKM-MCF) and TiePoint Engineering, PC (TiePoint), a leading designer of mission-critical data centers.
The newly formed entity, TiePoint-bkm Engineering, LLC., brings together the industry's top electrical and mechanical engineering specialists with more than 25 years of mission-critical engineering experience. The team has designed mission-critical spaces for Fortune 500 organizations across the U.S.
Charlie Maskell, CCA's Managing Director and Mike Zuidema, Director, advised on the engagement.
"Charlie Maskell has been a trusted advisor to BKM for over 20 years. We are grateful for the insight and guidance Charlie Maskell and Mike Zuidema provided through this transaction process. We look forward to future business growth opportunities with CCA on our team," said BKM's President Jim Barrett.
"The combination of TiePoint and BKM-MCF will create an industry leader in the mission-critical facilities industry for years to come", said Charlie Maskell, Managing Director.
"The merger is about synergy," said Richard Schlosser, TiePoint Engineering's Founder and President. "The exponential growth of cloud computing, the proliferation of mobile devices, and the need for even greater cyber security have combined to make the data center today's most vital strategic organizational asset. This merger brings together a dream-team in mission-critical engineering, ready to create next-generation facilities to meet the challenges facing today's data center-reliant organizations."
As part of the transaction, TiePoint-bkm and BKM, Inc. will enter a broad-based strategic alliance in which TiePoint-bkm will be the preferred supplier of mission-critical facility engineering expertise.
"BKM and TiePoint have been working together for nearly a decade," said BKM's President Jim Barrett. "The new strategic alliance provides our clients with a team of very experienced professionals who work exclusively on mission-critical facilities. Our engineers are thought leaders in the field who work closely with each client to craft facilities that further the mission of each client. Our team is unique in that we have the depth of resources of a larger firm with the hands-on principal level attention of a boutique firm. It really is a win/win situation."