Chesapeake Corporate Advisors Serves as Exclusive Financial Advisor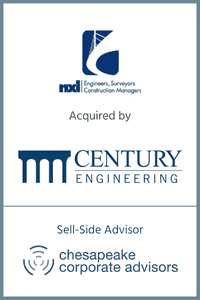 Baltimore, MD – April 2019 – Chesapeake Corporate Advisors ("CCA") is pleased to announce that it has served as exclusive financial advisor to Century Engineering, Inc. during its acquisition of NXL Construction Services, Inc., a Virginia-based construction management, inspection, and surveying firm.
Acquiring NXL Construction Services aligns with a pivotal strategic goal of Century to expand upon existing operations in Virginia. The acquisition provides for growth and expanded opportunities for staff across the Mid-Atlantic. Century and NXL have shared a working relationship for many years and, by combining resources, will better serve the Company's clients and the industry as a whole.
"Century Engineering is excited to build its presence in Virginia by acquiring NXL Construction Services, Inc.," said Century CEO Francis Smyth. "[NXL CEO] Nico De Leόn and his staff of professionals represent the best the industry has to offer. NXL's reputation and leadership was built on quality, responsiveness and dedication to clients, and these are core values to Century's business model. We are excited for our future in Virginia and welcome the NXL professionals to the Century team."
De Leόn added, "This is a major milestone for the company. Century will now have an immediate solid presence in Virginia and NXL will be able to offer new services to our clients."
This acquisition creates two new offices for Century in Virginia, located at current NXL offices in Richmond and Christiansburg, in addition to the existing office in Fairfax. All existing NXL contracts will continue to be managed and executed by the same dedicated staff their clients know and trust.
Chesapeake Corporate Advisors, LLC (CCA) is a boutique investment banking and corporate advisory firm, founded in 2005, committed to serving investor-owned and closely held emerging growth and middle market companies. CCA provides strategic advisory services (value creation), investment banking services (value realization), and valuation & financial opinions to companies with revenues generally between $10 million and $200 million. For more information about Chesapeake Corporate Advisors, please visit the website at www.ccabalt.com or call 410.537.5988