Chesapeake Corporate Advisors Serves as Exclusive Financial Advisor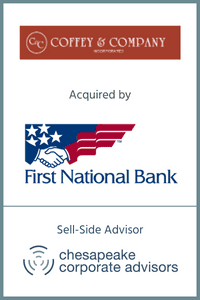 Baltimore, MD – April 2019 – Chesapeake Corporate Advisors ("CCA") is pleased to announce that it has served as exclusive financial advisor to Coffey & Company in its sale to First National Insurance Agency ("FNB").
Focusing on commercial, individual and employee benefit lines, Coffey & Company is one of Maryland's leading independent insurance brokers.
Founded in 1992, by Wayne Coffey, Baltimore-based Coffey & Company has an excellent reputation for providing high quality insurance services to their customers. For Pittsburgh-based First National, the acquisition not only provides a significant presence in the Baltimore market but provides a team of professionals around which to grow their insurance business in Maryland.
Wayne Coffey said, "FNIA provides us a platform on which to better serve our client base. We are energized about the possibilities of bringing our two like-minded organizations together."
Additionally, Wayne commented, "Charlie brought a level of understanding to the sale, from his experience with transactions, which without the outcome would not have been as rewarding for both parties. Having complete trust in his skill in negotiations and just as important his professionalism and integrity dealing with all parties. The buyer was so impressed with Charlie, they agreed he could be the mediator if we needed to go down that route. I would highly recommend Charlie and his firm and would welcome a call to expound on my experience with CCA."
Charlie Maskell, Managing Director at CCA, who was assisted by Meghan Daley, led the engagement and commented: "Coffey and Company has been a client for many years and we have been working with Wayne to create an ownership continuity plan that would make sure his clients were well taken care of. Over time, it became very clear that the deal with FNIA, which shares a common culture, was a very attractive outcome for Coffey and Company shareholders, employees and clients.
Chesapeake Corporate Advisors, LLC (CCA) is a boutique investment banking and corporate advisory firm, founded in 2005, committed to serving investor-owned and closely held emerging growth and middle market companies. CCA provides strategic advisory services (value creation), investment banking services (value realization), and valuation & financial opinions to companies with revenues generally between $10 million and $200 million. For more information about Chesapeake Corporate Advisors, please visit the website at www.ccabalt.com or call 410.537.5988