Chesapeake Corporate Advisors Serves as Exclusive Financial Advisor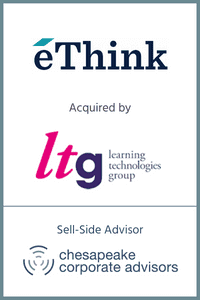 Baltimore, MD – December 7, 2020 – Chesapeake Corporate Advisors ("CCA") is pleased to announce that it has served as exclusive financial advisor to eThink Education LLC ("eThink") in its sale to Learning Technologies Group plc (AIM: LTG) ("LTG"), a UK based provider of a broad range of learning, training and talent solutions to corporate and government clients.
Founded in 2008 by Cheryl Patsavos and Brian Carlson, eThink is one of the largest commercial providers of the open-source Moodle Learning Management System (LMS) with customers in 22 different countries and over 2 million users. eThink will become part of LTG's OpenLMS subsidiary to consolidate and create a leading Moodle offering focused on education institutions and corporates offering world class service and capabilities to clients around the world.
Brian Carlson, co-founder and CEO of eThink said, "CCA was instrumental in helping navigate a complicated transaction with LTG, a London based publicly traded company. We've been working with Tim and Charlie for years leading up to this. This was our first time navigating the M&A world and to say we couldn't have done it without them is an understatement. We are very grateful for their continued dedication to us throughout this entire process."
Charlie Maskell, Managing Director with CCA, who led the engagement along with Tim Brasel a Director in CCA's investment banking practice, commented: "We are thrilled to have been able to assist Brian and Cheryl capitalize on the unique and valuable platform they created. Not only is this a great outcome for Brian and Cheryl, but also a tremendous opportunity for their employees and customers to have available the resources of the LTG platform. This transaction is evidence of the quality of the EdTech ecosystem in Baltimore. eThink's commitment to their customers and employees and their belief in the Moodle platform will drive significant value for OpenLMS and LTG. We ae excited to see their continued success"
"Charlie and Tim were instrumental in helping us find the right platform to build on our core expertise of delivering an unmatched Moodle and Totara experience to corporate and education clients around the world. The guidance they provided was a key factor in us closing on a successful transaction and finding an ideal fit for eThink", said Cheryl Patsavos, co-founder and COO of eThink.
Tim Hodge and Colleen Pleasant Klein, Partners with Nelson Mullins served as legal advisor for eThink Education, LLC. DLA Piper served as legal advisor for Learning Technologies Group plc.
Chesapeake Corporate Advisors, LLC (CCA) is a boutique investment banking and corporate advisory firm, founded in 2005, committed to serving investor-owned and closely held emerging growth and middle market companies. CCA provides strategic advisory services (value creation), investment banking services (value realization), and valuation & financial opinions to companies with revenues generally between $10 million and $200 million. For more information about Chesapeake Corporate Advisors, please visit the website at www.ccabalt.com or call 410.537.5988