Chesapeake Corporate Advisors Serves as Exclusive Financial Advisor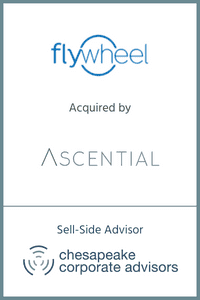 Baltimore, MD – October 31, 2018 – Chesapeake Corporate Advisors ("CCA") is pleased to announce that it has served as exclusive financial advisor to Flywheel Digital LLC ("Flywheel") in its sale to Ascential PLC ("Ascential"). Flywheel Digital provides its customers in the consumer-packaged goods space with a platform and the insights to optimize product sales across the Amazon platform.
Flywheel Digital, which provides services to help consumer product companies selling on Amazon, was acquired by London-based Ascential. Ascential paid $60 million in cash upfront, and the acquisition deal includes earn out payments over three years of up to $400 million.
Founded in 2014 by Patrick Miller and Chip DiPaula, Flywheel Digital has an office in South Baltimore with about 70 employees, as well as a location in Seattle.
The Company offers managed services for companies to drive sales on Amazon ecommerce platforms, including, software, tools and expertise. The Company's software and processes help with online operations, merchandising, supply logistics and media management. Flywheel currently has about 70 customers, serving mostly large-scale companies. The team includes account managers, search specialists, analysts and software developers.
For its part, Ascential offers a range of services to companies in areas including product design, marketing and sales. Flywheel will be part of the company's sales area, and the team will report to Ascential CEO Duncan Painter.
Chip DiPaula, President and founder of Flywheel commented: "CCA was an integral part of helping us through the acquisition process. Their expertise and guidance allowed us to achieve the best possible outcome and helped make the process as efficient as possible."
Charlie Maskell, founder and Managing Partner of CCA, who led the engagement along with Tim Brasel, commented: "We were thrilled to be able to help Chip and Patrick through this transaction. Flywheel will be a substantial addition to the Ascential digital marketing platform and we are excited to see their continued growth as part of a larger platform."
Chesapeake Corporate Advisors, LLC (CCA) is a boutique investment banking and corporate advisory firm, founded in 2005, committed to serving investor-owned and closely held emerging growth and middle market companies. CCA provides strategic advisory services (value creation), investment banking services (value realization), and valuation & financial opinions to companies with revenues generally between $10 million and $200 million. For more information about Chesapeake Corporate Advisors, please visit the website at www.ccabalt.com or call 410.537.5988