Chesapeake Corporate Advisors Serves as Exclusive Financial Advisor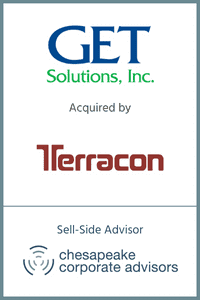 Baltimore, MD – March 16, 2021 — Chesapeake Corporate Advisors ("CCA") is pleased to announce that it has served as exclusive financial advisor to GET Solutions, Inc. ("GET") in its sale to Terracon Consultants, Inc. ("Terracon"), a leading engineering and environmental services provider, with locations throughout the continental United States.
GET Solutions is a trusted full-service geotechnical, environmental, and materials testing firm with locations in southern Virginia and North Carolina. GET will operate as "GET Solutions, Inc., A Terracon Company" and will expand Terracon's growing Mid-Atlantic presence. GET will increase Terracon's regional strength and allow them to continue providing "nimble, responsive support to clients' projects."
Camille Kattan, President of GET said, "CCA was instrumental in helping navigate the transaction process with Terracon. We have worked with CCA for years leading up to this deal. We had never gone through an M&A transaction and relied on Mike Zuidema, Allen Stott and the CCA team's expertise to get us to the finish line. We are very grateful for all of the guidance and support they provided throughout the entire process."
The CCA transaction team consisted of Allen Stott, Tim Brasel and Nate Keeney. Stott commented: "We are delighted that we were able to help Camille and the entire GET team find the right partner for the Company's next phase."
Charlie Maskell, Managing Partner of CCA said, "Mike Zuidema and Meghan Daley of CCA worked with Camille and GET's other shareholders over the last few years in preparation for this transaction, we are excited that our planning has resulted in an excellent outcome and one that will allow GET's legacy to continue."
Charles V. McPhillips and Darden T. Copeland of Kaufman & Canoles, P.C. served as legal advisor for GET Solutions.
Chesapeake Corporate Advisors, LLC (CCA) is a boutique investment banking and corporate advisory firm, founded in 2005, committed to serving investor-owned and closely held emerging growth and middle market companies. CCA provides strategic advisory services (value creation), investment banking services (value realization), and valuation & financial opinions to companies with revenues generally between $10 million and $200 million. For more information about Chesapeake Corporate Advisors, please visit the website at www.ccabalt.com or call 410.537.5988