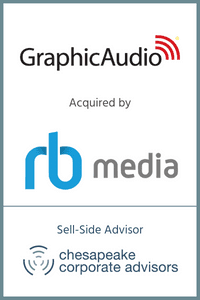 Baltimore, MD – April 1, 2020 – Chesapeake Corporate Advisors ("CCA") is pleased to announce that it has served as exclusive financial advisor to GraphicAudio in its sale to RBmedia, a portfolio company of private equity firm KKR.
GraphicAudio (GA) is a leading producer of dramatized audio content featuring a full cast of actors, sound effects, and cinematic music. The Company is home to the largest catalog of full cast dramatizations in the industry, with over 1,300 titles across 150 series focused chiefly on action/adventure, comics, science fiction/fantasy, and westerns. The company has produced titles in partnership with brands such as Marvel, DC Comics, Dynamite, and Vault Comics.
RBmedia (RB), a global leader in spoken audio content and digital media distribution technology. "GraphicAudio's unique ability to deliver high-quality, fully immersive audio experiences and original scripted works is unparalleled," said Tom MacIsaac, Chief Executive Officer for RBmedia. "Since RBmedia is the largest producer of audiobooks in the world, the combination of the two organizations will enable us to expand the application of this innovative audio storytelling approach and bring it to many partners and consumers globally."
The CEO and owner of Graphic Audio commented: "Allen Stott and Kyle Jefferson came to us at a moment when we needed seasoned guidance. They were superb in dealing with our buyer, winning their respect and trust. Finally, they were skillful and wise when handling the financial heart of our negotiations. For all this and more they have earned our deepest appreciation."
Allen Stott, a Managing Director with CCA, who led the engagement along with Kyle Jefferson, Associate in CCA's investment banking practice, said: "The pioneering owners of GA founded and built this creative, innovative company over several decades. The strategic acquisition of Graphic Audio by RB creates a powerful combination. I am very pleased that it provides the owners with an ideal exit strategy, given RB's industry-leading position the Company clearly is the perfect buyer to leverage and expand GA's unique capabilities."
Arent Fox's Washington, D.C. office served as legal advisor for Graphic Audio.
Chesapeake Corporate Advisors, LLC (CCA) is a boutique investment banking and corporate advisory firm, founded in 2005, committed to serving investor-owned and closely held emerging growth and middle market companies. CCA provides strategic advisory services (value creation), investment banking services (value realization), and valuation & financial opinions to companies with revenues generally between $10 million and $200 million. For more information about Chesapeake Corporate Advisors, please visit the website at www.ccabalt.com or call 410.537.5988