Chesapeake Corporate Advisors Serves as Exclusive Financial Advisor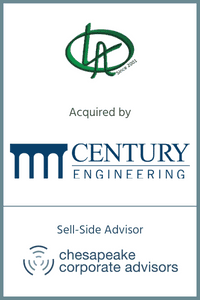 Baltimore, MD – April 26, 2019 – Chesapeake Corporate Advisors ("CCA") is pleased to announce that it has served as exclusive financial advisor to Little & Associates, Inc. in its sale to Century Engineering, Inc.
Focused on residential and commercial land development projects, Little & Associates is one of Baltimore's premier civil engineering & surveying firms, with deep expertise in all phases of the land development process.
Founded in 2001, by Dwight Little, Baltimore-based Little & Associates has developed a reputation as a leading engineering firm serving builders and developers across the greater Baltimore region. For Century Engineering, the acquisition provides the firm with a highly experienced team who will add new capabilities to Century's established suite of diversified engineering services.
Dwight Little, founder and president of Little & Associates said, "CCA was instrumental in helping to identify the perfect partner for our firm. Their expert guidance and commitment to helping negotiate this deal was critical to ensuring a successful outcome."
Charlie Maskell, founder and Managing Partner of CCA, who led the engagement along with Tim Brasel, commented: "We have been working with Dwight for 4 years in preparation for this transaction. We are delighted that we were able to find the right home for Little & Associates and to help preserve the legacy that Dwight has built over the past several decades."
Chesapeake Corporate Advisors, LLC (CCA) is a boutique investment banking and corporate advisory firm, founded in 2005, committed to serving investor-owned and closely held emerging growth and middle market companies. CCA provides strategic advisory services (value creation), investment banking services (value realization), and valuation & financial opinions to companies with revenues generally between $10 million and $200 million. For more information about Chesapeake Corporate Advisors, please visit the website at www.ccabalt.com or call 410.537.5988