Chesapeake Corporate Advisors Serves as Exclusive Financial Advisor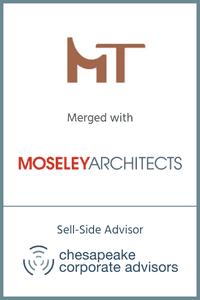 BALTIMORE, MD – January 15, 2018 — Chesapeake Corporate Advisors ("CCA") is pleased to announce that it has served as exclusive financial advisor to Marks, Thomas Architects, Inc. in the merger with Moseley Architects, P.C. Focusing on senior living, multi-family housing, education, and historic preservation markets, Marks Thomas was ranked 11th among the top 25 architecture firms by the Baltimore Business Journal.
Founded in 1967, Baltimore-based Marks Thomas has an excellent reputation for providing planning, architecture, interior design and sustainability services to clients along the east coast. For Richmond-based Moseley Architects, the merger not only provides a Maryland location, but allows the firm to become active in the multi-family housing marketplace and strengthens their presence in the growing senior living market.
Magda Westerhout, Marks Thomas's multi-family housing principal said: "Marks Thomas has focused on building our business through long-term relationships with our clients and Moseley has done the same. We are energized about the possibilities of bringing our two-like minded organizations together."
Charlie Maskell and Allen Stott, CCA Managing Directors led the engagement and commented: "Marks Thomas has been a client since 2014, when we worked with the senior shareholders to evaluate their strategic alternatives and then develop a roadmap. Over time, it became very clear that merging with Moseley, which shares a common culture and has offices from Virginia to South Carolina, was a very attractive outcome for Marks Thomas shareholders, employees and clients."
About Chesapeake Corporate Advisors: Chesapeake Corporate Advisors, LLC (CCA) is a boutique corporate advisory firm, founded in 2005, committed to serving investor-owned and closely held emerging growth and middle market companies. CCA provides strategic advisory services (value creation), investment banking services (value realization), and valuation & financial opinions to companies with revenues generally between $10 million and $200 million. For more information about Chesapeake Corporate Advisors, please visit the website at www.ccabalt.com or call 410.537.5988.