Chesapeake Corporate Advisors Serves as Exclusive Financial Advisor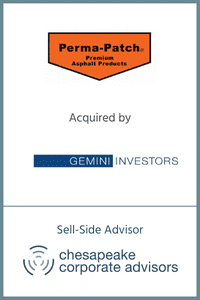 Baltimore, MD – February 9, 2018 – Chesapeake Corporate Advisors ("CCA") is pleased to announce that it has served as exclusive financial advisor to Perma-Patch, Inc. in the sale of Perma-Patch to Gemini Investors. Perma-Patch is the leading manufacturer of cold patch asphalt repair material in the U.S.
Based in Baltimore, MD, the proprietary Perma-Patch formula was developed in 1976. The pot-hole repair supplied to municipalities, state DOTs, utilities and commercial property owners, its quick-curing and ease-of-use make it a highly attractive solution. Gemini Investors is a Massachusetts-based investor in smaller middle market private companies, partnering with experienced management teams that have solid operating history and significant potential.
Thomas W. Haines, President, Perma-Patch, Inc. said "CCA was recommended to our company by the company accountant, my personal accountant and our outside corporate attorney. We would have been hard pressed to close this deal without CCA's help presenting the company, locating a suitable purchaser, and passing through due diligence to a completed sale. Our thanks to the whole team at CCA for introducing us to a purchaser that I think will significantly enhance the company's performance for the future."
Charlie Maskell and Allen Stott, CCA Managing Directors co-led the engagement. Mr. Maskell commented: "We are pleased to have had the opportunity to work with Tom Haines and the other shareholders to secure a successful outcome for the shareholders, management and employees. Finding the right buyer that valued the company, it's culture and employees was absolutely critical. We expect Gemini, with their proven 24-year track record of investing in privately held businesses, to be a great partner for the future."
Chesapeake Corporate Advisors, LLC (CCA) is a boutique corporate advisory firm, founded in 2005, committed to serving investor-owned and closely held emerging growth and middle market companies. CCA provides strategic advisory services (value creation), investment banking services (value realization), and valuation & financial opinions to companies with revenues generally between $10 million and $200 million. For more information about Chesapeake Corporate Advisors, please visit the website at www.ccabalt.com or call 410.537.5988