Chesapeake Corporate Advisors Serves as Exclusive Financial Advisor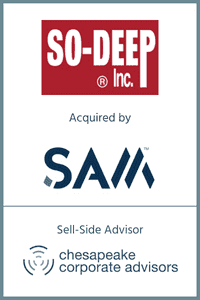 BALTIMORE, MD – November 15, 2016 — Chesapeake Corporate Advisors ("CCA") is pleased to announce that it has served as exclusive financial advisor to So-Deep, Inc. ("So-Deep"), in the sale of So-Deep to Surveying and Mapping, LLC ("SAM"), a premier geospatial solutions company headquartered in Austin, Texas. So-Deep is a leading subsurface utility engineering ("SUE") firm based in Manassas, Virginia.
Founded in 1981 by Garon Stutzman, So-Deep is recognized as the pioneer in the SUE profession. So- Deep has established itself as a leader in the industry with a significant client base of public and private clients in 37 states and the District of Columbia. Both SAM and So-Deep are known for their focus on customer satisfaction and providing the highest-quality services.
Charlie Maskell, CCA's Managing Director, led the engagement. Mr. Maskell commented: "The combination of SAM and So-Deep will enhance SAM's status as a market leader, expanding its suite of services and offering immediate entry into the highly attractive Mid-Atlantic and Southeast markets."
Garon Stutzman the founder of So-Deep said, "Selling any business requires very hard work. Selling a unique and easily recognized specialty firm is even more challenging. These challenges demand expertise and finesse found only in an investment banker with depth and understanding across many different types of deals. After one year of interviewing several dozen investment bankers my decision became clear. I chose Charles Maskell and his team from Chesapeake Corporate Advisors. Prepare for endless surprises coming from both sides of the deal; often seeming insurmountable at the time. Challenges always involve personalities, finances, emotion, guarantees, escrows, deadlines, employment contracts, real estate, and on it goes. It is always the investment banker who is the glue personally managing these delicate situations. Charlie Maskell had a calming effect in rough seas."
According to Samir "Sam" G. Hanna, RPLS, CEO and founder of SAM, "We are very excited about bringing So-Deep into the SAM family of companies. Their premiere reputation and record of success aligns very well with our own and we are enthusiastic about the synergy this acquisition will bring to our clients."
Chesapeake Corporate Advisors, LLC is a boutique corporate advisory firm, founded in 2005, committed to serving investor-owned and closely held emerging growth and middle market companies. CCA provides Strategy (value creation) and Investment Banking (value realization) services to companies with revenues generally between $10 million and $200 million.