Chesapeake Corporate Advisors Serves as Exclusive Financial Advisor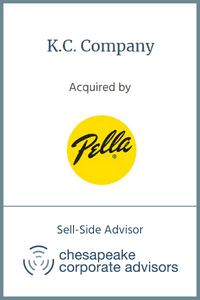 Baltimore, MD – October 1, 2018 – Chesapeake Corporate Advisors ("CCA") is pleased to announce that it has served as exclusive financial advisor to Kevin Cassidy, the sole shareholder of K.C. Company, a Beltsville based distributor of Pella products.
Focusing on Northern Virginia, Delaware and Maryland, K.C. Company is one of the country's largest independent distributors of Pella products.
Established in 1931, K.C. Company has an unparalleled reputation serving homeowners, builders, remodelers and builders and owners of commercial properties. Kevin Cassidy joined the family business in 1974, representing the third generation of the Cassidy family to work for K.C. Company. Kevin was promoted to the position of president in 1987 and took ownership in 1997. As the Company's sole shareholder Kevin said, "K.C. Company has focused on building our business through long-term relationships with our clients while providing a world class product with unmatched service."
Charlie Maskell, CCA Managing Director, with the assistance of Mike Zuidema, led the engagement and commented, "K.C. Company has been a client since the start of the firm in 2005, when we worked with Kevin Cassidy on a plan of continuous creation of shareholder value. During the process it became clear that Pella Mid-Atlantic would continue the great legacy of K.C. Company."
Pella Mid-Atlantic is a member of the Pella Direct Sales Network and is now one of the largest sales and service distributors in the Pella network.
Pella Mid-Atlantic operates 6 Pella® Window & Door Showrooms throughout Maryland, Washington, Northern Virginia, and Delaware designed to help customers make the most informed window and door decisions, provide certified professional installations, and offer full window and door service. Pella Mid-Atlantic serves the residential and commercial markets, and features products for new construction, replacement and remodel projects.
Chesapeake Corporate Advisors, LLC (CCA) is a boutique investment banking and corporate advisory firm, founded in 2005, committed to serving investor-owned and closely held emerging growth and middle market companies. CCA provides strategic advisory services (value creation), investment banking services (value realization), and valuation & financial opinions to companies with revenues generally between $10 million and $200 million. For more information about Chesapeake Corporate Advisors, please visit the website at www.ccabalt.com or call 410.537.5988