Chesapeake Corporate Advisors Serves as Exclusive Financial Advisor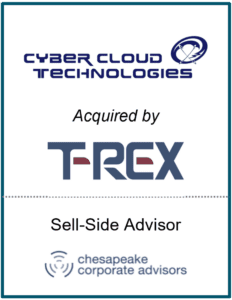 Baltimore, MD – August 10, 2023 – Chesapeake Corporate Advisors ("CCA") is pleased to announce it has served as the exclusive financial advisor to Cyber Cloud Technologies, LLC ("Cyber Cloud"), an information technology services firm that provides a suite of enterprise IT services to the federal government, including cybersecurity and cloud services, in its sale to T-Rex Solutions, LLC ("T-Rex"), a leading IT professional services firm that helps the federal government modernize, protect, and scale its systems and data.
Serving the national security market for 15 years, Cyber Cloud brings innovative solutions that will help T-Rex expand its foothold in the intelligence community and accelerate its growth. The transaction will enable T-Rex to offer a broader set of advanced cybersecurity services that help to protect the nation's most critical systems. The CCA investment banking team on this transaction included members of the firm's government contracting practice, including Managing Directors Marty O'Neill and Mike Zuidema and Vice President Meghan Daley. Together, they crafted the deal strategy and provided strategic support throughout the engagement. Newt Fowler and Kimberly Burke Richmond of Womble Bond Dickinson served as Cyber Cloud's legal counsel.
"Marty O'Neill and the entire CCA GovCon team served as a valuable partner throughout the transaction," said Frank "Kip" Kippenbrock, Cyber Cloud president and CEO. "CCA provided critical guidance and support throughout the process, leading to a successful transaction outcome. We look forward to collaborating with T-Rex, leveraging our shared commitment to our nation's security, and further developing innovative IT solutions for the federal government."
"The CCA investment banking team was thrilled to apply our deep GovCon experience to guide Kip and the rest of the Cyber Cloud leadership team through a sale process that culminated in an exceptional outcome," said O'Neill. "The similarities in their cultures and mission, along with the synergies of their services, make this deal a winning combination for both Cyber Cloud and T-Rex Solutions," said Zuidema.
About Cyber Cloud Technologies
Cyber Cloud Technologies is a Center for Verification and Evaluation (CVE) Verified Service Disabled Veteran Owned Small Business that focuses on delivering high-quality services and products at a fair market value. The company's primary domains are information technology, information security, and intelligence solutions, with offerings that include cyber consulting, IT enterprise, and cloud integration services. Cyber Cloud Technologies works in partnership with customers to deliver superior quality services on time and within budget. For more information, visit https://cyber-cloud.com/.
About T-Rex Solutions
T-Rex is a leading IT professional services firm helping the federal government modernize, protect, and scale its systems and data. T-Rex has designed, built, integrated, and operated some of the world's largest critical systems for the federal government. We take pride in in relentlessly innovating to improve government performance. T-Rex has technical expertise in Cloud Adoption, Cybersecurity, Data Engineering, Agile Transformation, and Customer Experience. For more information, visit www.trexsolutionsllc.com
About Chesapeake Corporate Advisors
Chesapeake Corporate Advisors is a boutique investment banking and corporate advisory firm providing strategic advisory services (value creation) and investment banking services (value realization) to companies with revenues between $10 million and $200 million. For more information, visit www.ccabalt.com or call 410.537.5988.