Chesapeake Corporate Advisors Serves as Exclusive Financial Advisor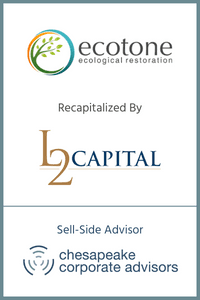 Baltimore, MD – July 14, 2021 – Chesapeake Corporate Advisors ("CCA") is pleased to announce that it has served as exclusive financial advisor to Ecotone, Inc. ("Ecotone") a market leader in ecological restoration efforts based in Forest Hill, MD, in its recapitalization by L2 Capital Partners ("L2"), a middle market-focused private equity firm. In partnering with L2, Ecotone will be better positioned to further the Company's mission to negate existing and future impacts on the natural environment.
Scott McGill, CEO of Ecotone said, "We are thrilled to join forces with the team at L2. We appreciate the firm's long-term investment strategy and look forward to growing with them. I would like to thank Allen Stott and the CCA team for their professionalism, strategic guidance, and support throughout this process. Their contribution was critical to us closing on this new partnership."
The CCA investment banking team consisted of Charlie Maskell, Allen Stott and Nate Keeney. Colleen Pleasant Kline, Partner and Sarah Swedloff, Associate from Nelson Mullins provided legal counsel for Ecotone. Donald Readlinger from Troutman Pepper provided legal counsel for L2 Capital Partners.
CCA's Allen Stott commented, "Scott has built an amazing company in Ecotone. It was a pleasure to partner with them and help guide them through a complex transaction. We wish them the best on the next stage of the Company's mission."
About Ecotone
Founded in 1998, Ecotone is an ecological restoration company that provides full-delivery ecosystem restoration, mitigation, design, construction and consulting solutions throughout the United States. Ecotone is proud to serve a diverse group of clients including public and private developers, landowners, governmental agencies, and nonprofit organizations. For more, visit www.ecotoneinc.com.
About L2 Capital Partners
L2 Capital Partners (www.L2Capital.net) is a lower middle-market private equity family office that specializes in making controlling or minority investments in business service, consumer product and manufacturing companies with enterprise values up to $75 million. L2 Capital adds value by helping business executives and owners meet their strategic and financial goals by providing access to professionals and resources gained over 40 years of principal investing experience within the structure of a family office.
About Chesapeake Corporate Advisors
Chesapeake Corporate Advisors is a boutique investment banking and corporate advisory firm providing strategic advisory services (value creation), investment banking services (value realization), and valuation & financial opinions to companies with revenues generally between $10 million and $200 million. For more, visit our About page or call 410.537.5988.
If you're considering selling your company, see "Be Ready for When the Opportunity Presents Itself" for the key components of positioning yourself to enter the market.