Chesapeake Corporate Advisors Serves as Exclusive Financial Advisor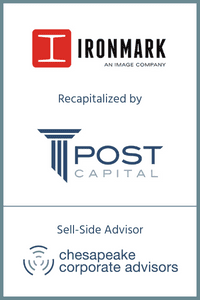 Baltimore, MD – July 18, 2022 – Chesapeake Corporate Advisors ("CCA") is pleased to announce it has served as the exclusive financial advisor to Ironmark ("Ironmark"), a provider of integrated print, marketing, and communications services throughout the Mid-Atlantic region, in its recapitalization by Post Capital Partners ("Post Capital"), a New York-based private investment firm that makes both minority growth and control investments in companies across a wide range of industries, including services, manufacturing, and distribution businesses.
Since its origins in 1955 as a printing company, Ironmark has grown significantly through mergers and acquisitions, evolving into a full-service provider of web development, digital marketing, creative, print, and logistics services to healthcare, manufacturing, financial, and multi-unit franchise businesses. By partnering with Post Capital, the Columbia, Maryland-based company is now positioned to capitalize on opportunities to further diversify its service offerings and expand its reach beyond the Mid-Atlantic region. Post Capital's Jeff Riback, a career printing industry executive, will provide board-level support to Ironmark.
"Allen Stott and the CCA team were a valuable partner throughout the transaction," said Jeff Ostenso, Ironmark CEO. "CCA provided critical guidance and support throughout the complex process including selecting Post Capital, our new private equity partner, as well as in successfully completing the transaction."
The CCA investment banking team on this transaction included Managing Director Allen Stott and Vice President Katie Kieran, who together crafted the deal strategy and provided strategic support throughout the engagement, along with Senior Analyst Mohammad Siddiqi, who conducted financial modeling, analysis and support. Colleen Kline and Dan Fitzgerald of Nelson Mullins served as Ironmark's legal counsel. 
"It has been a true pleasure to work with Jeff, along with Ironmark President Matt Marzullo and other company executives, throughout this process to complete a majority recapitalization," said Stott. "In Post Capital, and printing industry veteran Jeff Ribak, Ironmark has secured a great partner to help accelerate its diversification and growth in marketing services and its significant geographic expansion through acquisition."
About Ironmark
Ironmark is dedicated to maintaining and improving the images of its clients through a range of support services, from full-service print production to creative marketing support to web-based/web-enabled technologies. We are in business to provide clients with a rock-solid partnership that leads to creative, effective results. We are committed to staying on the leading edge of our changing industry and solidifying our position as the Mid-Atlantic's first choice for integrated print, marketing, and communications services. Visit www.IronmarkUSA.com for more information.
About Post Capital Partners
Post Capital Partners (http://www.postcp.com) is a private investment firm that makes both minority growth and control investments in businesses with repeat or recurring revenue models. Post Capital primarily employs an "Executive-First" deal sourcing and investment strategy in which it first identifies and partners with talented senior operating executives and then works proactively with those "Executive Partners" to identify investments. In addition to "Executive-First" platform searches, Post Capital also pursues management buyouts and growth capital investments. Based in New York City, Post Capital invests a committed capital fund with top-tier institutional and sophisticated private investors.
About Chesapeake Corporate Advisors
Chesapeake Corporate Advisors is a boutique investment banking and corporate advisory firm providing strategic advisory services (value creation), investment banking services (value realization), and valuation & financial opinions to companies with revenues generally between $10 million and $200 million. For more, visit www.ccabalt.com or call 410.537.5988.