Chesapeake Corporate Advisors Serves as Exclusive Financial Advisor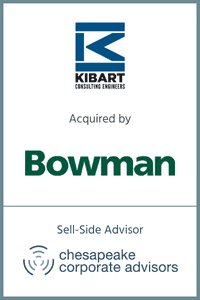 Baltimore, MD – January 11, 2022 – Chesapeake Corporate Advisors ("CCA") is pleased to announce it has served as the exclusive financial advisor to Kibart. Inc. ("Kibart"), an award-winning MEP engineering and commissioning firm, in its sale to Bowman Consulting Group ("Bowman"), an engineering services firm delivering innovative infrastructure solutions to customers who own, develop, and maintain the built environment.
Based in Townson, Maryland, Kibart provides clients with creative, high-quality services in the areas of mechanical, electrical and energy engineering, master planning, utility and infrastructure design, commissioning, LEED-certification design, and construction administration. Known for its passion and innovation, Kibart will provide immediate opportunities to cross-sell new services to the established Bowman client base, driving revenue growth.
"CCA has served as an invaluable partner of Kibart and has always delivered exceptional value to our company through its Corporate Advisory services," said Ed Abbott, president of Kibart. "Thanks to the Investment Banking team's strong expertise and strategic guidance throughout the process, we have found the right company to join forces with, enabling us to take our firm to the next level."
"Kibart is a great addition to our growing portfolio of building services," said Gary Bowman, CEO of Bowman. "Ed and his team have designed many award-winning projects that demonstrate market leadership and innovation. The addition of Kibart builds on our acquisitions of KTA Group and PCD and accelerates our strategy of developing a building services practice that has a national reach."
The CCA investment banking team on this transaction included Managing Member and CEO Charlie Maskell and Managing Director Allen Stott, who together led the negotiations and provided strategic advising throughout the sale process, and Senior Analyst Mohammad Siddiqi, who provided transaction support. Mark Jensen of Bowie & Jensen served as legal counsel to Kibart.
"We are pleased to have worked closely with Ed and his team at Kibart to bring this transaction to fruition," Maskell said. "After working together for 20 years, it is especially gratifying to help Kibart identify a partner that will help take its innovative engineering services to a broader audience and fuel greater growth. The Kibart team and its strong portfolio of engineering services will serve as a perfect complement to Bowman's growing MEP practice."
About Kibart, Inc.
Founded in 1986, Kibart is an award-winning MEP engineering and commissioning firm that works collaboratively with all project stakeholders to provide solutions that are creative, contemporary, reliable, and sustainable. Having developed exceptionally relevant expertise in the equipment and total systems design process, Kibart's staff of over 35 building performance experts focus on delivering the highest quality results to clients and the environment. Additional information on Kibart, its team, and its projects can be found at https://kibart.com.
About Bowman Consulting Group Ltd.
Headquartered in Reston, Virginia, Bowman is an engineering services firm delivering innovative infrastructure solutions to customers who own, develop, and maintain the built environment. With 950 employees and more than 35 offices throughout the United States, Bowman provides a variety of planning, engineering, construction management, commissioning, environmental consulting, geomatics, survey, land procurement and other technical services to customers operating in a diverse set of regulated end markets. On May 11, 2021, Bowman completed its $51.7 million initial public offering and began trading on the Nasdaq under the symbol BWMN. For more information, visit www.bowman.com.
About Chesapeake Corporate Advisors
Chesapeake Corporate Advisors is a boutique investment banking and corporate advisory firm providing strategic advisory services (value creation), investment banking services (value realization), and valuation & financial opinions to companies with revenues between $10 million and $200 million. For more, visit www.ccabalt.com or call 410.537.5988.