Chesapeake Corporate Advisors Serves as Exclusive Financial Advisor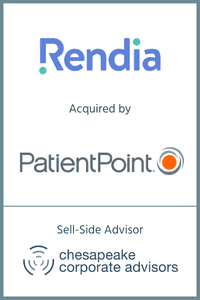 Baltimore, MD – October 24, 2022 – Chesapeake Corporate Advisors ("CCA") is pleased to announce it has served as the exclusive financial advisor to Rendia, Inc. ("Rendia"), a provider of subscription-based point-of-care engagement software and content for eye care practitioners, in its sale to PatientPoint® ("PatientPoint"), provider of an industry-leading, tech-enabled point-of-care network that engages healthcare providers and patients across 20 medical specialties.
For more than two decades, Rendia's award-winning content platform and point-of-care engagement software have been helping eye care providers improve patient outcomes and grow revenue through higher acceptance rates for recommended procedures. By acquiring the Baltimore, Maryland-based company, PatientPoint will accelerate its expansion into the ophthalmology and optometry space, as well as other specialties and markets that demand custom content, while leveraging the power of Rendia's 8,000 subscribers, flexible platform, and content portal. 
"Rendia is thrilled to be joining forces with a leader and innovator in the point-of-care industry," said Smitha Gopal, former Rendia CEO who now serves as Executive Vice President of Subscription and Procedure-Based Specialties at PatientPoint. "We are extremely grateful for CCA's thorough guidance throughout this process. CCA has worked alongside our team for years, advising on our value creation and corporate strategies. I appreciate their strategic partnership in this transaction." 
The CCA investment banking team on this transaction included Managing Director Charlie Maskell and Vice President Andy Spears, who together with Smitha Gopal developed the deal strategy, conducted the negotiations, and provided strategic advising throughout the transaction. For several years leading up to the sale, the CCA corporate advisory  team worked closely with Rendia to increase shareholder value, optimize the business's valuation, and position the company for the best sale outcome. Tim Hodge, Daniel Fitzgerald, and Amanda Chong of Nelson Mullins served as Rendia's legal counsel.
"This transaction illustrates the exceptional outcomes that can be achieved when a leading business like Rendia partners with CCA for corporate advisory services in preparation for an eventual exit," Maskell said. "We were fortunate to serve as the company's strategic advisor for several years, positioning Rendia to move quickly in capitalizing on the right opportunity and achieve a strong outcome for the business owners."  
About Rendia
Rendia's mission is to equip health care professionals with the tools to engage patients at every step of the patient journey, producing educational content that drives better decision-making and smoother doctor–patient communication. The company's comprehensive suite of interactive patient engagement tools promotes shared decision making and improves health outcomes for patients. To learn more, visit www.rendia.com. 
About PatientPoint
PatientPoint® is the patient engagement platform for every point of care. Our innovative, tech-enabled solutions create more effective doctor-patient interactions and deliver high value for patients, providers and healthcare sponsors. Through our nearly 140 thousand unique healthcare provider relationships, PatientPoint's solutions impact roughly 750 million patient visits each year, further advancing our mission of making every doctor-patient engagement better®. Learn more at www.patientpoint.com.
About Chesapeake Corporate Advisors
Chesapeake Corporate Advisors is a boutique investment banking and corporate advisory firm providing strategic advisory services (value creation) and investment banking services (value realization) to companies with revenues between $10 million and $200 million. For more information, visit www.ccabalt.com or call 410.537.5988.