Chesapeake Corporate Advisors Serves as Exclusive Financial Advisor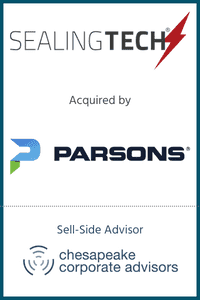 Baltimore, MD – September 13, 2023 – Chesapeake Corporate Advisors ("CCA") is pleased to announce it has served as the exclusive financial advisor to Sealing Technologies, Inc. ("SealingTech" or " the Company"), in its sale to Parsons Corporation in a transaction valued at up to $200 million, including $175 million in cash at closing.  SealingTech,  a Columbia, MD based company, that focuses on protecting and defending their customers' networks and systems through cutting edge research, products, engineering, and integration services for the Internet of Things (IoT), edge combat operations, AI and ML, and cloud industries. The Company delivers innovative cybersecurity solutions across defensive cyber operations, critical infrastructure network protection, and secure data management. SealingTech is a prime contractor on over 90% of its federal contracts and is directly aligned with high-impact national security initiatives. Over 70% of the Company's employees hold security clearances.
Carey Smith, Parsons' Chair, President & CEO said "The addition of SealingTech is a natural extension of our growth strategy, adding critical, mission-ready solutions for our Department of Defense and Intelligence Community customers. SealingTech's defensive cyber capabilities complement our leading offensive cyber capabilities and increases our share in the full-spectrum cyber operations market, which is expected to receive increased government funding because of accelerating and evolving cyber threats. Their mission-focused approach and passion for delivering impactful solutions for our nation's most pressing security challenges aligns seamlessly with Parsons' business and culture. I look forward to welcoming their talented team of employees to the Parsons' family as we collectively imagine next."
"This partnership is the perfect next step in the future of our two companies," said Edward Sealing, CEO of SealingTech. "There is complete alignment with our culture and values, and we share a common passion for supporting our nation's most pressing security challenges while promoting a people-first culture."
Ed Sealing added "CCA's guidance and support in navigating the sale process were instrumental in helping us navigate the sale process and close the deal for the next phase of our Company's journey.  Their expertise in the DoD and Intelligence market, combined with their financial analysis and business advisory practice, were critical in getting us to this point."
CCA's deal team was led by Managing Director Marty O'Neill and VP Andy Spears who lead the firm's GovCon practice, with support from Director Tim Brasel and Analyst Aidan Olmstead from CCA's investment banking group.
"We are honored to have helped Ed and the SealingTech team with this transaction.  We believe Parsons is a great home for the SealingTech, and we know they will drive significant value for Parsons' Defense & Intelligence group," said Marty, O'Neill.  Tim Brasel commented, "I'm thrilled that we were able to leverage CCA's deep knowledge of the GovCon market, specifically the Cyber vertical, and our track record of executing M&A transactions in helping SealingTech achieve the perfect outcome.  I look forward to following their continued success."
About Sealing Technologies
Founded in 2012, Sealing Technologies Inc. is a veteran-owned business that provides cutting-edge research, development, and implementation services and specializes in Cyber Defense Operations, SIGINT, Cloud Computing, Cross Domain Solutions, Mobile Security, and Mission Critical IT.
SealingTech proudly maintains a strong reputation within the DoD for providing effective solutions throughout the entire Engineering Lifecycle. SealingTech's team of knowledgeable subject matter experts have demonstrated years of superior performance and maintain proven capabilities. The Company holds a Top-Secret Facility Clearance, appraised at a CMMI Dev Maturity Level 3, and has a Research and Development Lab within their Headquarters.
About Parsons Corporation
Founded in 1944, Parsons Corporation, a digitally enabled solutions provider, is focused on creating the future of the defense, intelligence, and critical infrastructure markets. From Earth to outer space, Parsons delivers tomorrow's solutions today. Equipped with the capabilities required to take on any defense, intelligence, or critical infrastructure challenge, their agile, innovative, and disruptive approach enables Parsons to deliver solutions at the speed of relevance.
About Chesapeake Corporate Advisors
Chesapeake Corporate Advisors is a boutique investment banking and corporate advisory firm providing strategic advisory services (value creation) and investment banking services (value realization) to companies with revenues between $10 million and $200 million. For more information, visit www.ccabalt.com or call 410.537.5988.