Chesapeake Corporate Advisors Serves as Exclusive Financial Advisor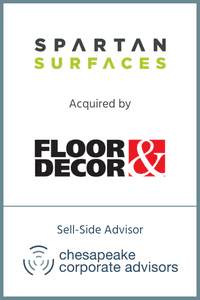 Baltimore, MD – June 15, 2021 – Chesapeake Corporate Advisors ("CCA") is pleased to announce that it has served as exclusive financial advisor to Spartan Surfaces, a leading end-to-end commercial flooring specialty distribution company, in its sale to Floor & Decor (NYSE: FND), a high-growth specialty retailer of hard-surface flooring, accelerating Floor & Decor's growth in commercial flooring. Floor & Decor will pay total consideration of up to $90 million for Spartan Surfaces.
Headquartered in Bel Air, Maryland, Spartan Surfaces will operate as a subsidiary of Floor & Decor Holdings, Inc. and will continue to be led by the Spartan Surfaces senior management team.
Kevin Jablon, Founder & CEO of Spartan Surfaces said, "CCA's guidance and support as we prepared for an acquisition by a leading public company was first-class, as Charlie Maskell and Tim Brasel shepherded us through every aspect of the transaction. Finding the perfect partner in Floor & Decor allows us to accelerate our growth plans into many untapped and highly fragmented markets across the United States, while maintaining our unique culture."
He added, "Floor & Decor's extensive sourcing and distribution capabilities of innovative, trend-forward products will serve as a key selling point for our business development team and for projects that depend on reliability and near-term supply."
Tom Taylor, Floor & Decor's Chief Executive Officer, stated, "We believe Spartan Surfaces is the right strategic partner to enable us to incrementally accelerate our commercial flooring growth plans through their scalable specifying and consultative selling business model that primarily serves the architectural and design community. Just as we've revolutionized how hard surface flooring is purchased in retail, we see multiple sources of potential value creation by collectively leveraging each company's core strengths, and we are excited about supporting Spartan Surfaces' accelerated growth plans."
The CCA investment banking team consisted of Charlie Maskell, Tim Brasel and Nate Keeney. Michael Schiffer, Todd Gustin, Dan Mendelsohn and Daria Ivanova of Venable LLP served as legal advisors for Spartan Surfaces.
Charlie Maskell commented, "We were so pleased to be part of helping Kevin and his team through this hugely important transaction and that Floor & Decor recognized the strategic value of the company and the culture Kevin and his team have built."
About Spartan Surfaces
Founded in 2007, Spartan Surfaces is a fast-growing commercial specialty hard-surface flooring distribution company that focuses on specifying and selling commercial flooring through the architect and design community, end-users and commercial flooring contractors. Today, the company has 106 employees that cover three-fifths of the United States with showrooms in Washington D.C. and Chicago. For more, visit www.spartansurfaces.com.
About Floor & Decor
Founded in 2000, Atlanta-based Floor & Decor is a leading, high-growth specialty retailer of hard-surface flooring, operating 140 warehouse stores in 32 states as of April 1, 2021. The stores offer the industry's broadest in-stock assortment of tile, wood, laminate, vinyl, and natural stone flooring along with decorative and installation accessories and adjacent categories. The stores also offer free design services and a dedicated pro sales team. Products are directly sourced from manufacturers around the globe, which enables it to bring the world's best and most innovative flooring trends to its customers, at everyday low prices. Floor & Decor has locations nationwide, but each store is bolstered by a local focus that creates a unique store experience and mix of products that meet the needs of each market served. For more, visit www.flooranddecor.com.
About Chesapeake Corporate Advisors
Chesapeake Corporate Advisors is a boutique investment banking and corporate advisory firm providing strategic advisory services (value creation), investment banking services (value realization), and valuation & financial opinions to companies with revenues generally between $10 million and $200 million. For more, visit our About page or call 410.537.5988.
If you're considering selling your company, see "Be Ready for When the Opportunity Presents Itself" for the key components of positioning yourself to enter the market.