Chesapeake Corporate Advisors Serves as Exclusive Financial Advisor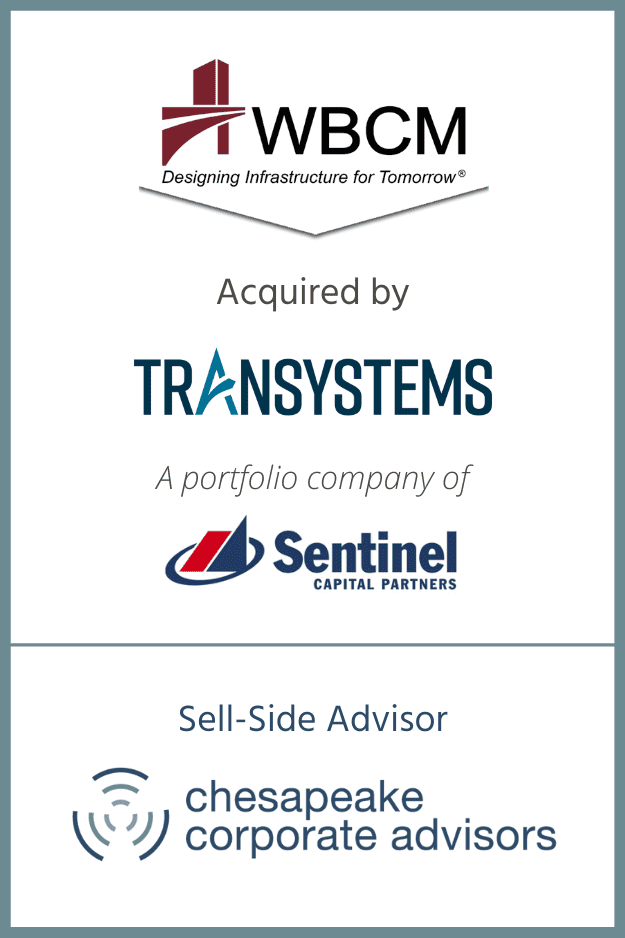 Baltimore, MD – July 11, 2023 – Chesapeake Corporate Advisors ("CCA") is pleased to announce it has served as the exclusive financial advisor to Whitney Bailey Cox & Magnani, LLC ("WBCM"), a multidisciplinary design, engineering, and construction firm, in its sale to TranSystems Corp. ("TranSystems"), a national transportation consulting firm.
Headquartered in Baltimore, Maryland, WBCM has served the Mid-Atlantic region with design, engineering, and construction projects for the last 45 years. With 225 dedicated employees, WBCM will join the TranSystems national 1,500-person workforce.
"We are thrilled about the opportunities that come with joining the TranSystems family. This acquisition brings together two highly respected firms with a shared commitment to delivering innovative solutions to our clients," said WBCM President Marco Legaluppi. "We are extremely grateful for the expert guidance provided by CCA throughout this process. Their deep knowledge and experience, combined with meticulous attention to detail, ensured that every aspect of the transaction was handled with precision and care."
Joining forces with TranSystems will allow WBCM to take on more significant and complex projects while strengthening TranSystems' presence in the Mid-Atlantic. TranSystems is the ideal partner for the existing WBCM team to find a long-term home and is a key piece of TranSystems's plan to build the leading transportation engineering services provider throughout the country.
"The WBCM and TranSystems combination is natural with similar focuses on innovative transportation and infrastructure solutions," said TranSystems CEO Richard Morsches. "This merger will yield immediate and long-term benefits for both companies."
Director Timothy Brasel led the transaction for the CCA investment banking team, alongside WBCM President Marco Legaluppi, EVP Joe O'Neil, and EVP Jesse Lindsay. Tim led the deal strategy, conducted negotiations, and provided strategic advice throughout the transaction. Howard Stevens from Pascale Stevens LLP served as WBCM's legal counsel. Sentinel Capital Partners continues to team with TranSystems to expand its presence in the infrastructure industry.
"It has been a pleasure to work with Marco, Joe, and Jesse throughout this process," said Tim Brasel. "WBCM has secured a great partner to help continue its legacy as a leading transportation and infrastructure design firm."
About WBCM 
WBCM is a renowned leader in the field of engineering and consulting services. With a rich history and an impressive portfolio of successful projects, WBCM brings extensive expertise and innovation to every endeavor. Specializing in a wide range of disciplines including transportation engineering, civil engineering, environmental services, and construction management, WBCM offers comprehensive expertise to meet the diverse needs of public and private sector clients.
About Chesapeake Corporate Advisors
Chesapeake Corporate Advisors is a boutique investment banking and corporate advisory firm providing strategic advisory services (value creation) and investment banking services (value realization) to companies with revenues between $10 million and $200 million. For more information, visit www.ccabalt.com or call 410.537.5988.