INDUSTRY UPDATE | Q2 2022
CCA provides customized investment banking and corporate advisory services to middle market companies in the mid-Atlantic region. No matter where you are in your business life cycle, CCA can help you build shareholder value and achieve outcomes that best suit your goals.
CCA provides customized investment banking and corporate advisory services to middle market companies in the mid-Atlantic region. No matter where you are in your business life cycle, CCA can help you build shareholder value and achieve outcomes that best suit your goals.
exclusive sell-side
advisory deals
strategic assessments
completed
valuations and marketability studies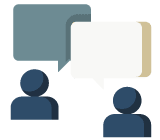 Corporate Advisory Services
The CCA Corporate Advisory team takes a holistic approach that's proven to help businesses create sustainable value through the right combination of strategy and execution. Our process is rooted in a structured, proprietary, data-based approach that leverages the most robust analytical tools and methodologies.
We start by assessing the value and marketability of your business—arriving at an objective business valuation that serves as the essential foundation for determining how to enhance that value through strategic initiatives.
Then we use our proprietary framework to evaluate and arrive at the optimal strategic alternatives to help you achieve your goals. If a business succession or exit is in your plans, our team will help you explore the best options to set you on the right path and ensure a smooth transition—so the business is ready when you are.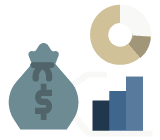 Investment Banking Services
Whether you're buying or selling a business, looking to recapitalize, or seeking new capital to fuel your growth, CCA understands the importance of this transaction in the life of your company. You need an investment banking expert you can trust wholeheartedly to guide you through a complex process and achieve a successful outcome.
Clients have trusted CCA as their investment banking advisor for 30+ years. When you choose CCA as your investment banker, your goals become our goals. We take a comprehensive, holistic approach to achieving the most successful transactions, both domestically and across borders—from preparing you to go to market, through the process of negotiating and closing a deal that produces the optimal results.
Defense & Government Themes and Perspectives
The second quarter saw increased volatility in the capital markets, with an increased focus on quality deals.
Carlyle Group makes a Big Splash
In May, Carlyle Group (Nasdaq: CG) announced the acquisition of ManTech International (Nasdaq: MANT) in a deal reportedly valued at $4B. In December 2021, ManTech acquired Gryphon and more recently acquired the intel company TMAC.. The Carlyle Group is a global alternative asset manager with $216 billion of assets under management.
Valuations under Pressure
The IPO market is very quiet, and tech firm valuations have lowered in the last year. There is still capital that needs to be deployed but buyers seem to becoming a bit more selective. With the increase in interest rates, PE groups will place additional focus on a targets' ability to service debt.
Contract Awards Slide to the Right
For a variety of reasons such as turnover, the desire to work from home, and the great resignation, many Federal Agency contracting organizations have experienced high turnover. This lack of resources has increased the time in Source Selection and pushed many awards to the right.
A Diversity of Deal Sizes
Private Equity firms such as The Carlyle Group, Enlightenment Capital Proteus Capital Solutions and Publicly traded strategics Parsons an BAE System were among the most active companies in the Government Technology Services market. There were huge deals announces like Broadcom's $61B acquisition of VMWare but also smaller deals in the market such a Axiologic's acquisition of Data Intelligence Technologies.
The increase in interest rates has had an impact on valuation and deal size however, there remains significant capital in reserve. According to S&P Capital IQ), 500 companies held $3.7 trillion in cash and equivalents. In addition, as of June 2022, there was $949.9 billion in dry powder held by PE firms. (Source: Prequim)
GovCon Outperforms the Market
Government Services, Multi-Platform Defense Primes, and Defense Technology indices have overperformed the broader market (S&P500) by at least ~900 basis points over the past year. However, only the Government Services and Defense Technology indices have remained positive during recent volatility amid increasing inflation and rising interest rates.
Companies serving the Intelligence and Cyber Markets encompass a wide range of offerings with a diverse set of skills and market segments. From Artificial Intelligence and Machine Learning to Cybersecurity and support for the war fighter, the people that make up these technology companies are actively involved in national security. Along with these "pointy edge of the sword companies" are support industries in staffing, construction, finance, and legal which serve to support the infrastructure, financial, and legal needs of this community.
SBA Updating Small Business NAICS

The Small Business Administration is updating the dollar value for small business thresholds. Many small businesses in the National Security market are in the 540000 range and have seen significant increases. These changes reflect the competitive landscape of the market by allowing additional growth before competing in a full and open setting.
Ft Meade East Campus Construction

Balfour Beatty has won a $697.8 million contract from the U.S. Army Corps of Engineers to provide design and construction services to Fort Meade in Maryland. The project involves work on the fourth East Campus Building and a new parking structure and multistory office buildings for the National Security Agency and the U.S. Cyber Command.
More Unclassified Work for Intel Agencies

In a May 2022 interview with "GovCon Wire", Ryan Agee, technical director for NSA's capabilities directorate said "I believe NSA can and should do more work at the unclassified levels, and we are. We have environments now at the unclassified level for collaboration."  Agee shared that the unclassified work effort is a "big area of emphasis" for him.
Lt. Gen. Timothy Haugh – Cybercom

Lt. Gen. Timothy Haugh, commander of the 16th Air Force, was confirmed by a voice vote in the Senate to become the next deputy commander of U.S. Cyber Command. He was nominated by President Biden to the No. 2 post at Cybercom one month ago and will succeed Lt. Gen. Charles Moore, who has held the role since September of last year.
NSA Releases OIG Report on CARES

The OIG found that NSA had significant issues implementing the CARES Act. The Agency did not perform sufficient reviews of CARES invoices. Evolving guidelines, reduced contract oversight, staffing during the pandemic, an over-reliance on contractor provided information, and the absence of clear and comprehensive procedures for CARES invoices caused the OIG to question more than $16.4 million, or 40 percent of the sampled CARES invoice charges.
GovCon US Cyber Command Outreach
The USCYBERCOM held an industry day in June for over 100 companies whose technical experts were briefed by the command's leaders on their needs for advanced cyber capabilities. The defense of the cyber domain remains a high Federal Government priority. The Industry Day was open to cleared industry partners with skillsets relevant to national defense.
The Intelligence Community Budget
The United States Intelligence Community is a group of separate United States government intelligence agencies and subordinate organizations, that work separately and together to conduct intelligence activities to support the foreign policy and national security of the United States.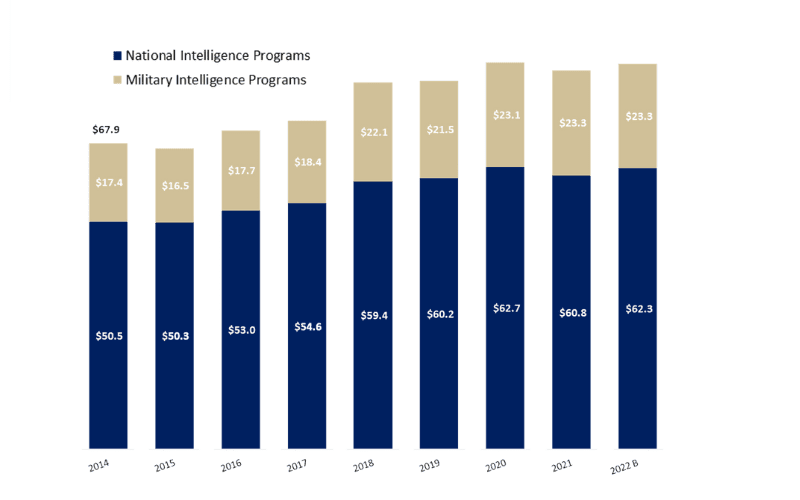 The National Intelligence Program (NIP) includes all programs, projects IC programs are funded through the: (1) National Intelligence Program (NIP), which covers the programs, projects, and activities of the IC oriented toward the strategic requirements of policymakers, and (2) Military Intelligence Program (MIP), which funds defense intelligence activities intended to support tactical military requirements and operations.
A program is primarily NIP if it funds an activity that supports more than one department or agency (such as satellite imagery), or provides a service of common concern for the IC (such as secure communications). The NIP funds the Central Intelligence Agency (CIA) and the Office of the Director of National Intelligence (ODNI) in their entirety, and the strategic intelligence activities associated with departmental IC elements (such DOD's National Security Agency (NSA)).
A program is primarily MIP if it funds an activity that addresses a unique DOD requirement. Additionally, MIP funds may be used to "sustain, enhance, or increase capacity/capability of NIP systems." The DNI and USD(I&S) work together in a number of ways to facilitate the integration of NIP and MIP intelligence efforts. Mutually beneficial programs may receive both NIP and MIP resources.
Recent Transaction Highlights
Target:

Acquiror

Announced: April 6, 2022
Sector: Professional Services
Description: Government market investment firm Enlightenment Capital is putting more of its small business development funds to work. Enlightenment's latest backing goes to PM Consulting Group, a provider of management consulting and other professional support services to agencies involved in international development and healthcare. The investment involves financial backing and strategic support as the contractor looks to build on its growth to date.
Target:

Acquiror

Announced: April 11, 2022
Sector: Intel & AI
Description: In December of 2020, BigBear.ai acquired ProModel Government Services, expanding the company's modeling and simulation capabilities for federal customers. With the acquisition of ProModel Corporation, BigBear.ai can now leverage these capabilities in the commercial sector to optimize decision making with improved insights into supply chains, market conditions, equipment maintenance, capacity planning, and process efficiency.
Target:
Acquiror
Announced: April 12, 2022
Sector: Intel & Cyber
Description: The acquired companies – OSI LLC, Agency Consulting Group, Kimmich Software Solutions and ExaTech Solutions – all of which previously operated within ASRC Federal's Defense and Intel group, are now part of PCS-Mosaic's Athenix Cyber & SIGINT Solutions business, which is based in Columbia. Altogether, PCS-Mosaic Holdings is now home to more than 400 employees serving intelligence, cyber, and special operations customers.
Target: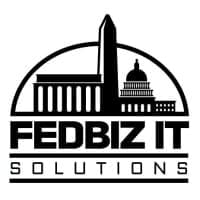 Acquiror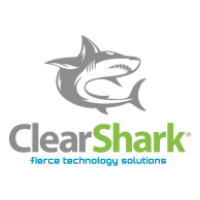 Announced: May 11, 2022
Sector: Intel & Big Data
Description: The acquisition of FedBiz IT brings ClearShark skilled resources with a deep understanding of contracts capture, contracts management, and compliance along with a broad set of contracts to simplify the acquisition of critical information technology and related services to modernize and secure information technology within the Federal Government. Specifically, FedBiz IT's contracts portfolio include many widely-used contracts including NASA SEWP V, Army ITES-SW2, Army ADMC-3, SEC Blanket Order Agreement, among others.
Target: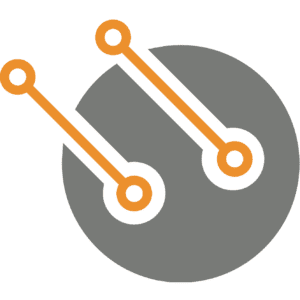 Acquiror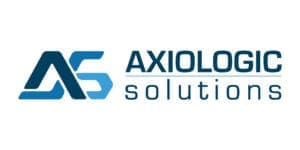 Announced: May 11, 2022
Sector: Intel & AI
Description: Axiologic Solutions has acquired Data Intelligence Technologies to expand its services and client base in the national security and intelligence communities. Data Intelligence Technologies specializes in artificial intelligence, data science and cybersecurity and adopts Blur Search Technologies as a platform to design and develop applications to facilitate rapid search, data retrieval and indexing in support of the client's mission.  Data Intelligence Technologies supports the missions of federal civilian and defense agencies and commercial entities.
Target: 

Acquiror

Announced: May 16, 2022
Sector: Government Services
Description: Private equity firm The Carlyle Group has agreed to acquire ManTech, in an all-cash deal valued at $4.2 billion.  Founded in 1968, ManTech provides services in cybersecurity, data and analytics, enterprise IT, software development, systems engineering, intelligence missions support, and mission operations.  The firm had $2.55 billion in revenue in 2021 and saw year-over-year growth of 6.7% to reach $676 million in revenue for Q1 2022. The deal will give Carlyle additional exposure to the hot cybersecurity and government IT consulting markets.
EV/EBITDA Public Valuation Multiples
As we monitor the Government Contracting Industry, we have classified some of the largest government contractors into three main industry sub-sectors to the left.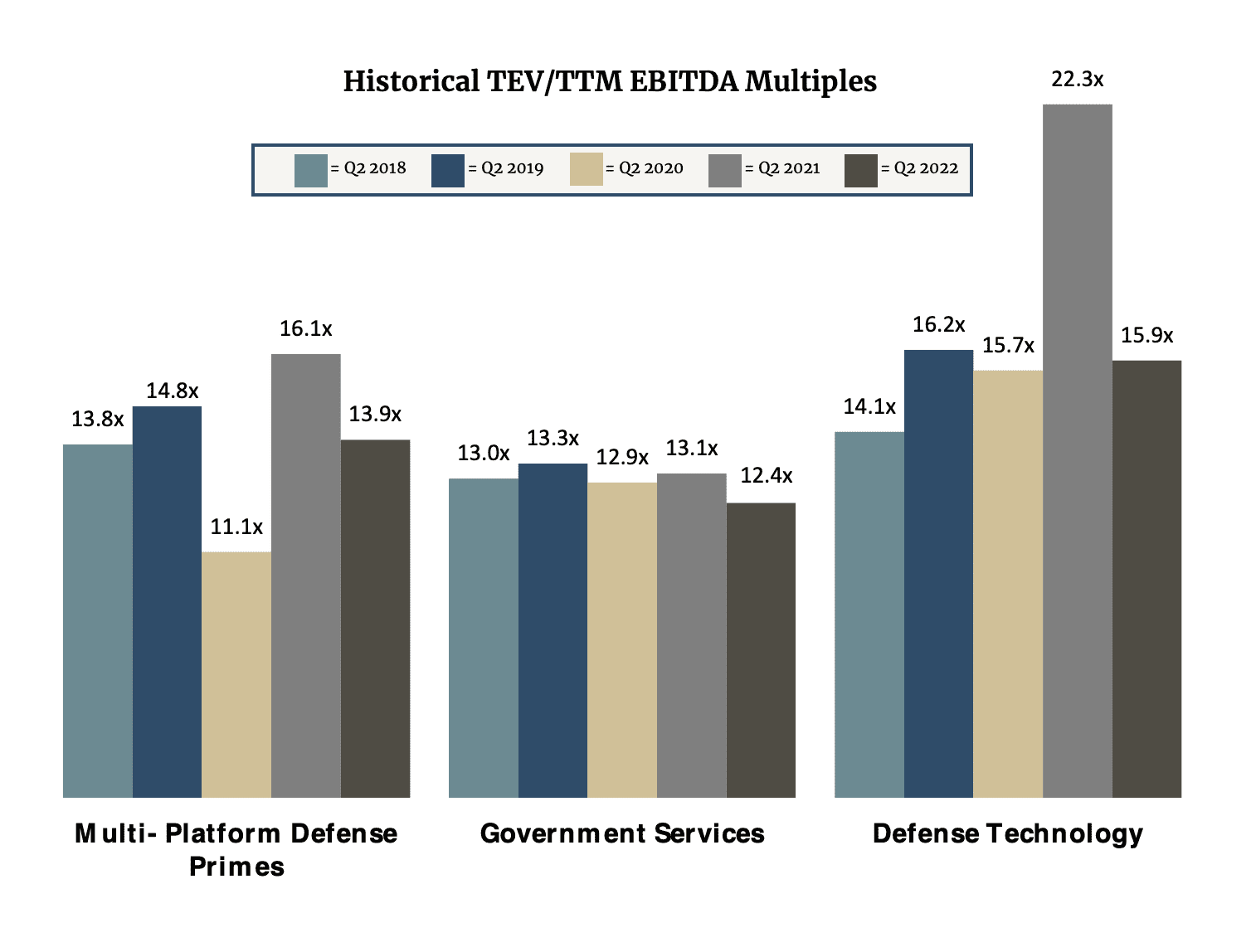 Multi-Platform Defense Primes
Companies typically involved in the interdisciplinary fields of engineering and engineering management in the delivery of defense-related products and services. This includes, but is not limited to weaponry, munitions, electronics and cyber-related products and services.

Government Services
Government contractors focused on the delivery of professional services. These services typically augment or are in support of engineering, IT and software development, cyber security project-based initiatives or to bolster the Government's ability to provide for the national defense.

Defense Technology
Defense prime contractors specialize in the design, construction, and support of defense-based products and services. Their work with the Federal Government is typically in a prime contracting relationship as they manage their supply chains and furnish services, supplies or construction to the Government.

Multi-Platform Defense Primes
Government Services
Defense Technology
Source: S&P Capital IQ Data as of 06/30/2022
Note: ManTech International Corporation's data is as of May 13, 2022, the last trading day prior to the announcement of The Carlyle Group Inc's intent to acquire ManTech.
CCA Government Services Indices Stock Performance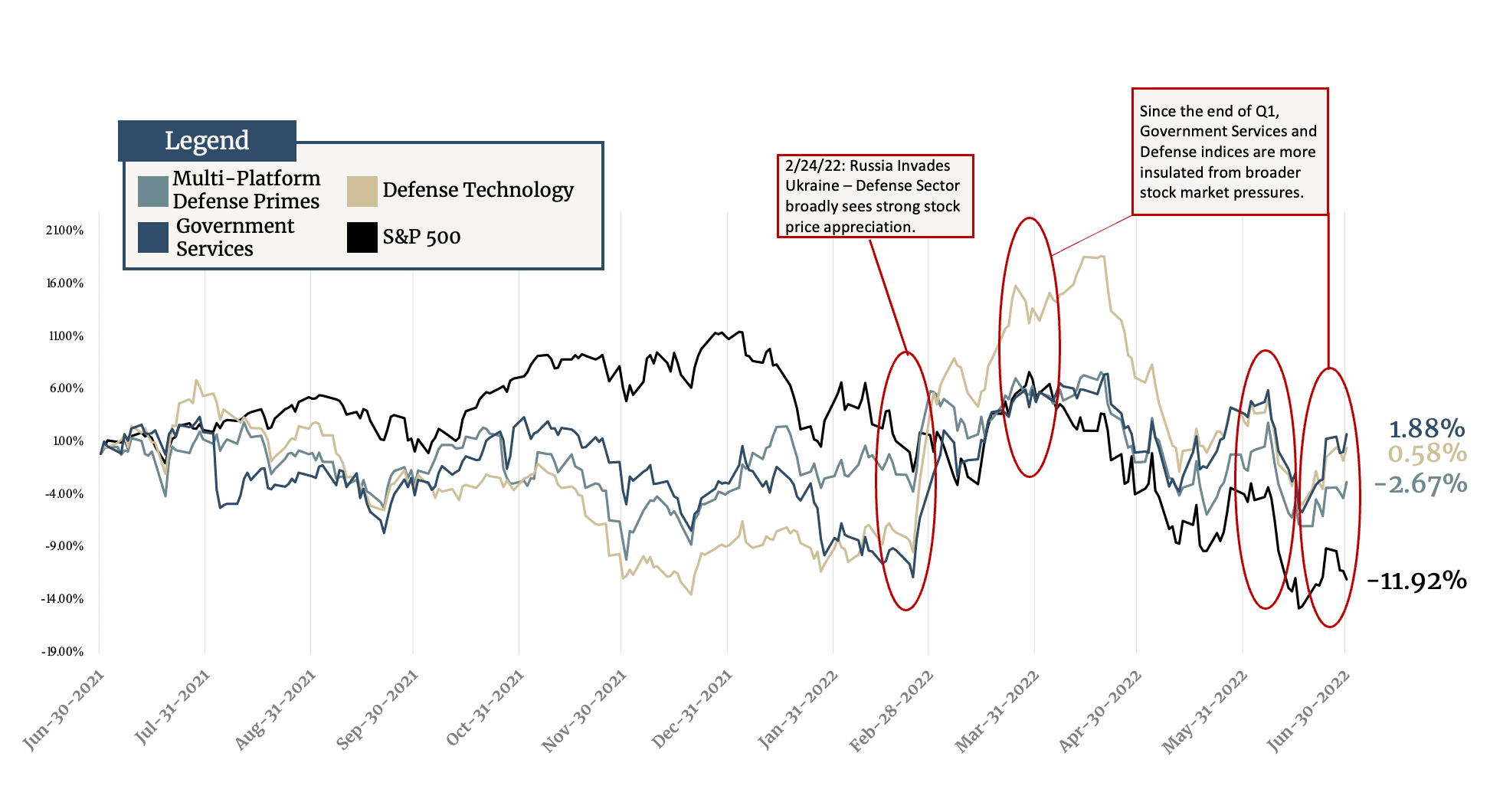 Government Services, Multi-Platform Defense Primes, and Defense Technology indices have overperformed the broader market (S&P500) by at least ~900 basis points over the past year. However, only the Government Services and Defense Technology indices have remained positive during recent volatility amid increasing inflation and rising interest rates.
6/15/2022 – CCA's GovCon indices and the Broader S&P 500 entered bear market territory (a 20% decline) in anticipation of the Fed instituting a 75bps rate increase to try and reduce inflation but increasing fears of a recession.
How CCA Helps Government Contractors
Strategy &
Corporate Advisory
Chesapeake Corporate Advisors​ provides a framework for business owners to focus on building sustainable value and to explore their succession and exit alternatives. We use our proprietary tools and methodologies to assess the market and maximize value through strategy.
Investment Banking
Services
CCA is a leading investment bank with extensive expertise in mergers, acquisitions, divestitures, and corporate advisory. We use a comprehensive approach to assist clients develop and execute a buy-side, sell-side or recapitalization strategy domestically and in cross-border transactions.
Business Valuations &
Financial Opinions
At CCA, understanding shareholder value is at the center of everything that we do. Our analysis considers the feasibility of mergers, acquisitions, divestitures, ESOPs, management buy-outs and recapitalizations. We provide an objective, assessment of value that is deeply rooted in qualitative and quantitative analysis using our proprietary methodologies.
CCA's Government Contracting team is a blend of Corporate Advisory, Investment Banking, and Government Contracting Executives.  We have worked with dozens of companies in projects ranging from Sell Side Investment Banking, to Ownership Alternatives, to Valuations to Boards of Directors.

The CCA Government Contracting Team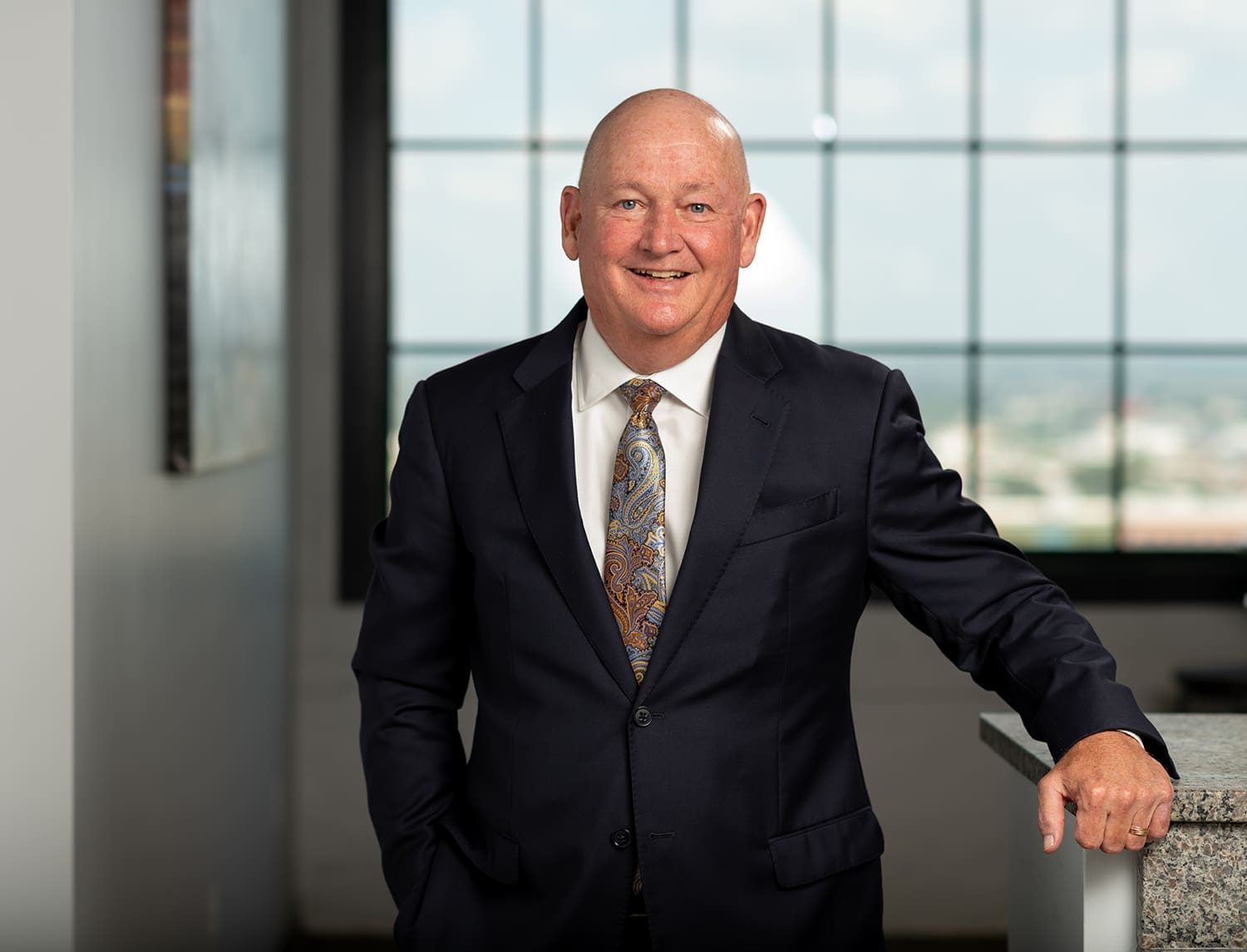 Charlie Maskell
Managing Partner
Charlie leads the CCA teams dedicated in assisting businesses enhance shareholder value and position themselves to sell to a strategic buyer, recapitalize with a private equity investor transition through an internal transaction.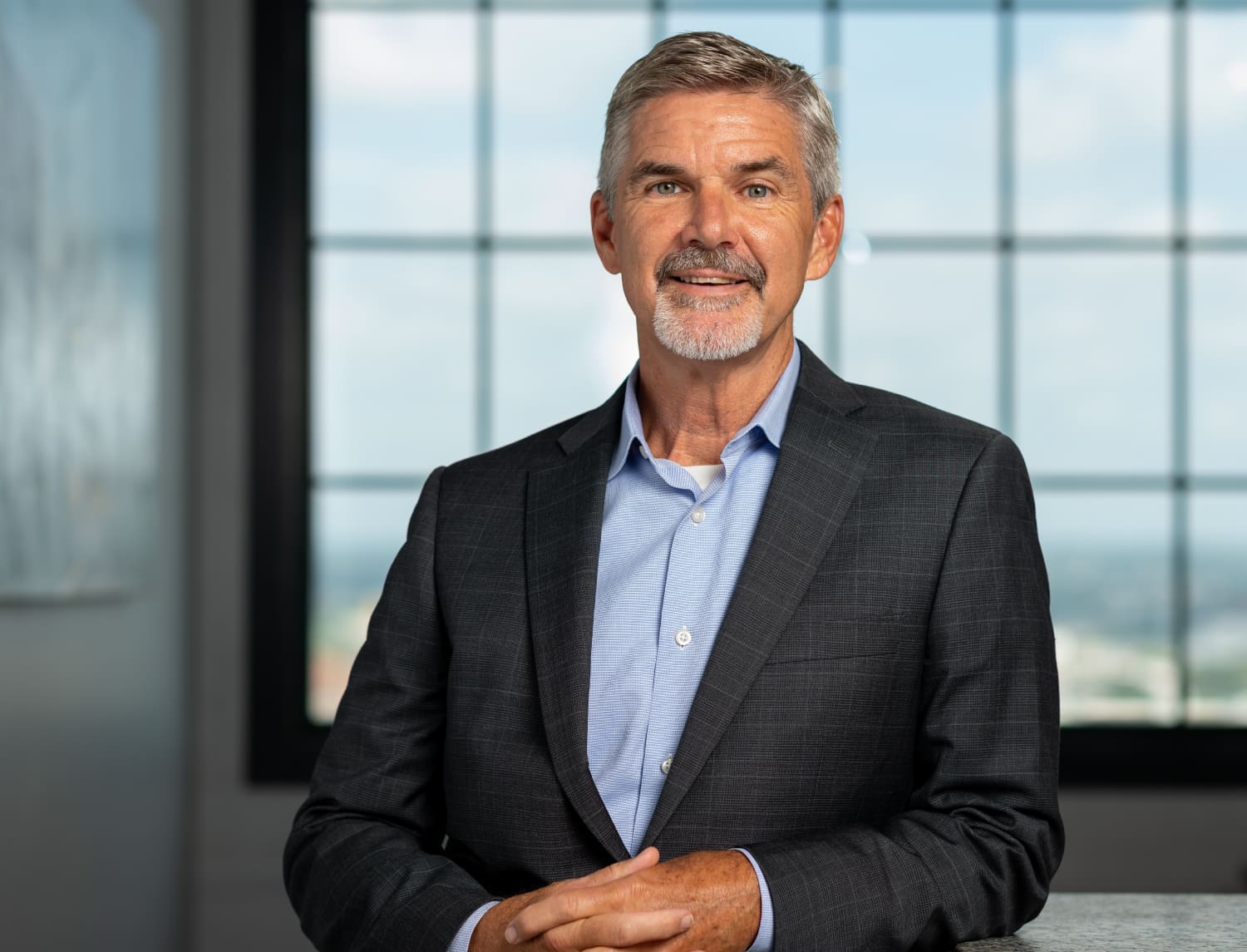 Martin O'Neill
Managing Director
CCA clients appreciate that Marty has walked a mile in their shoes, having spent 30 years as a business leader in companies of various industries and sizes before joining CCA as an advisor to middle market businesses.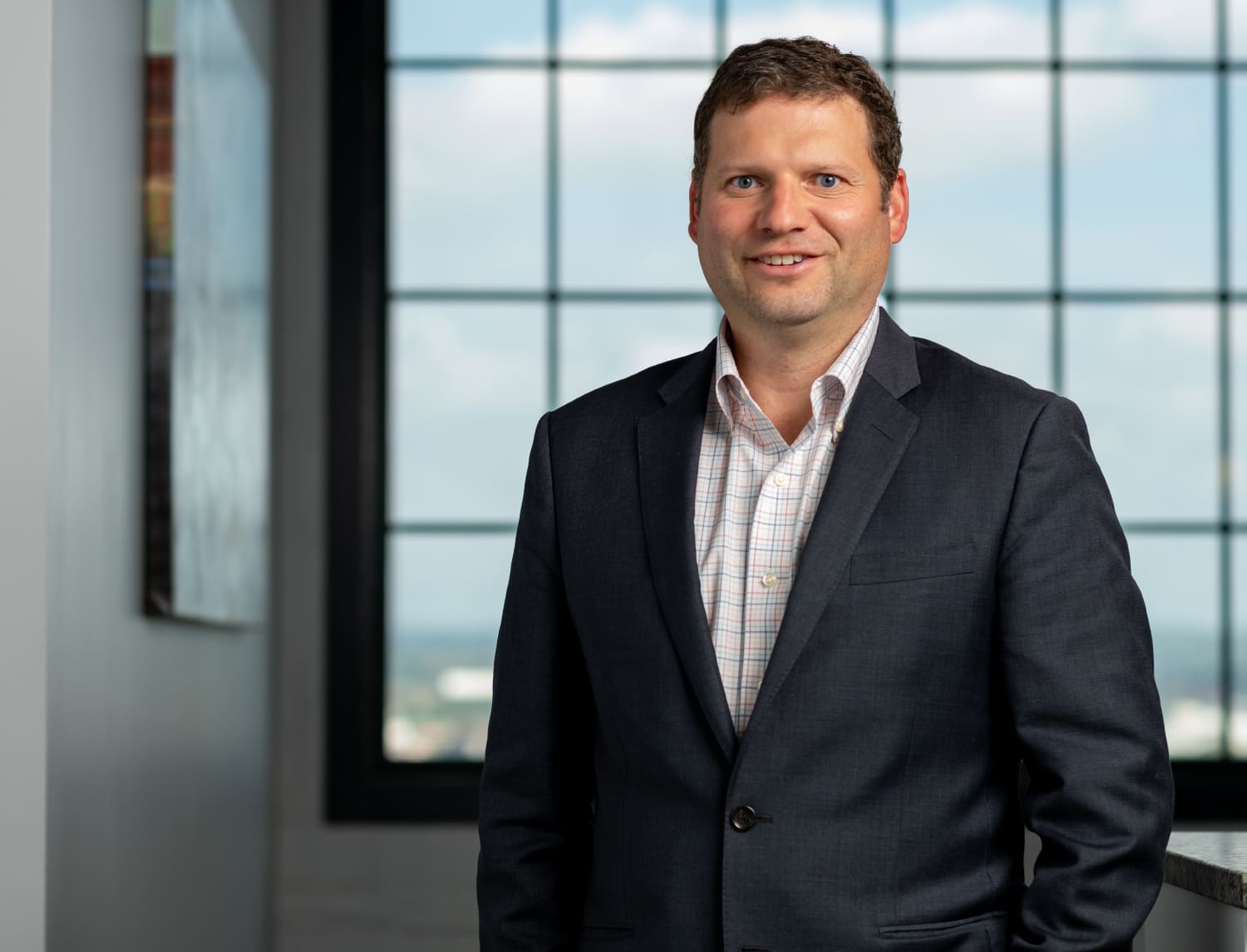 Michael Zuidema
Managing Director
In leading corporate advisory engagements for our clients, Mike draws on his extensive experience and track record of serving middle-market and privately-held businesses. Mike Zuidema takes an approach that's proven to achieve results.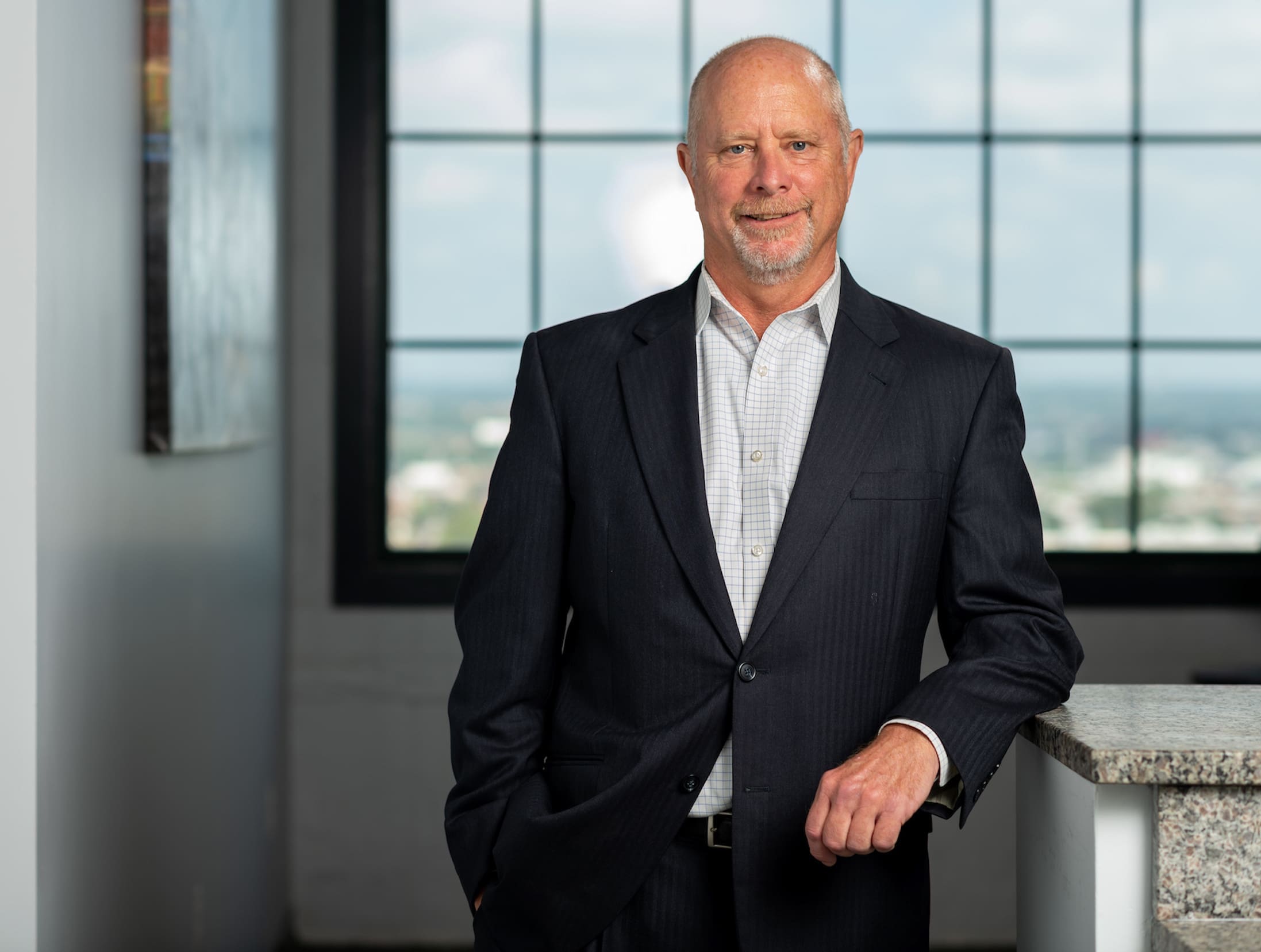 Allen Stott
Managing Director
Allen leads investment banking engagements for clients in the Mid-Atlantic region, leveraging his experience to help business owners achieve the best outcomes when ready to sell.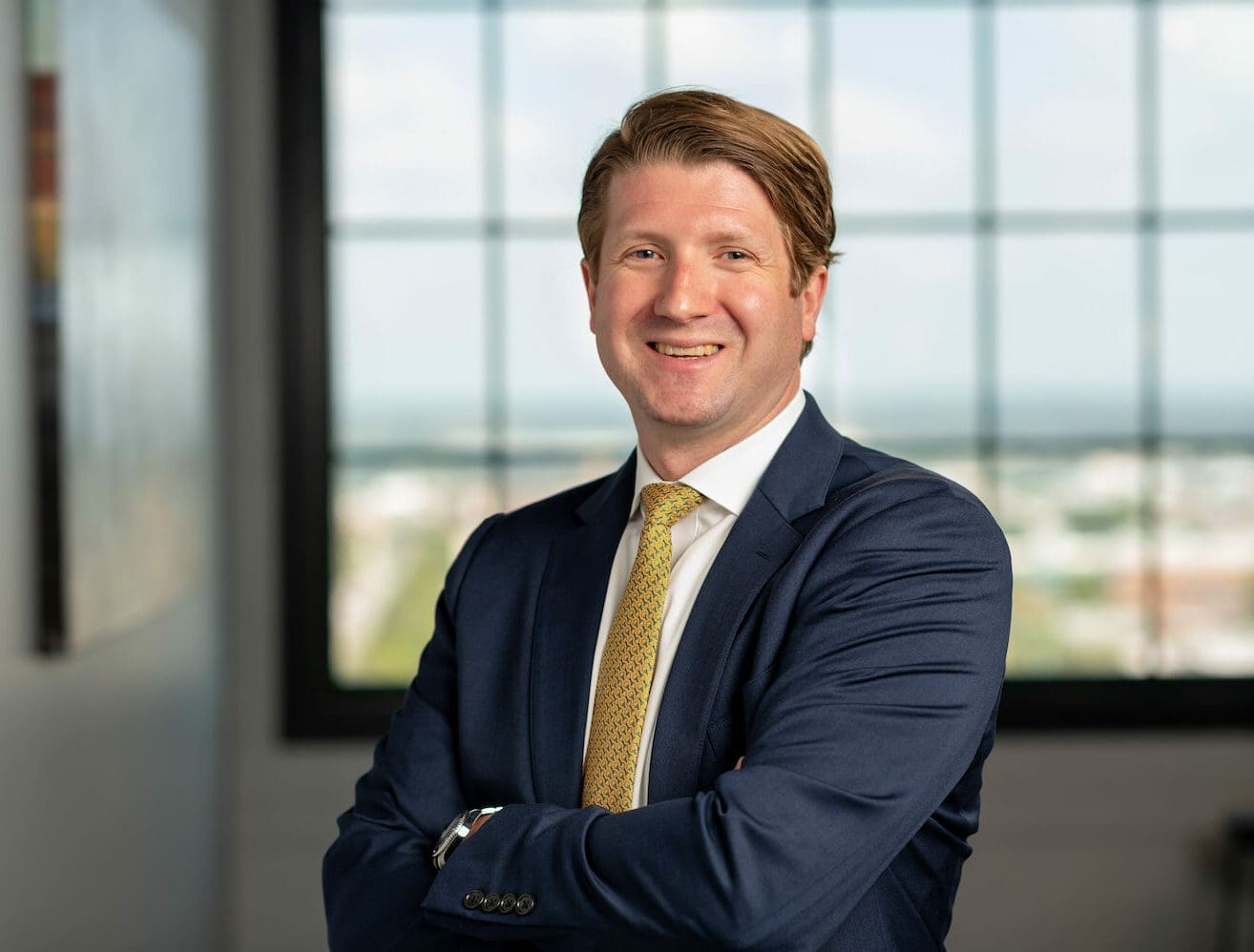 Tim Brasel
Director
Tim leads the day-to-day management and execution of many of the deals CCA transacts for its clients. He's helped lead and guide the sale and acquisition of numerous middle market companies.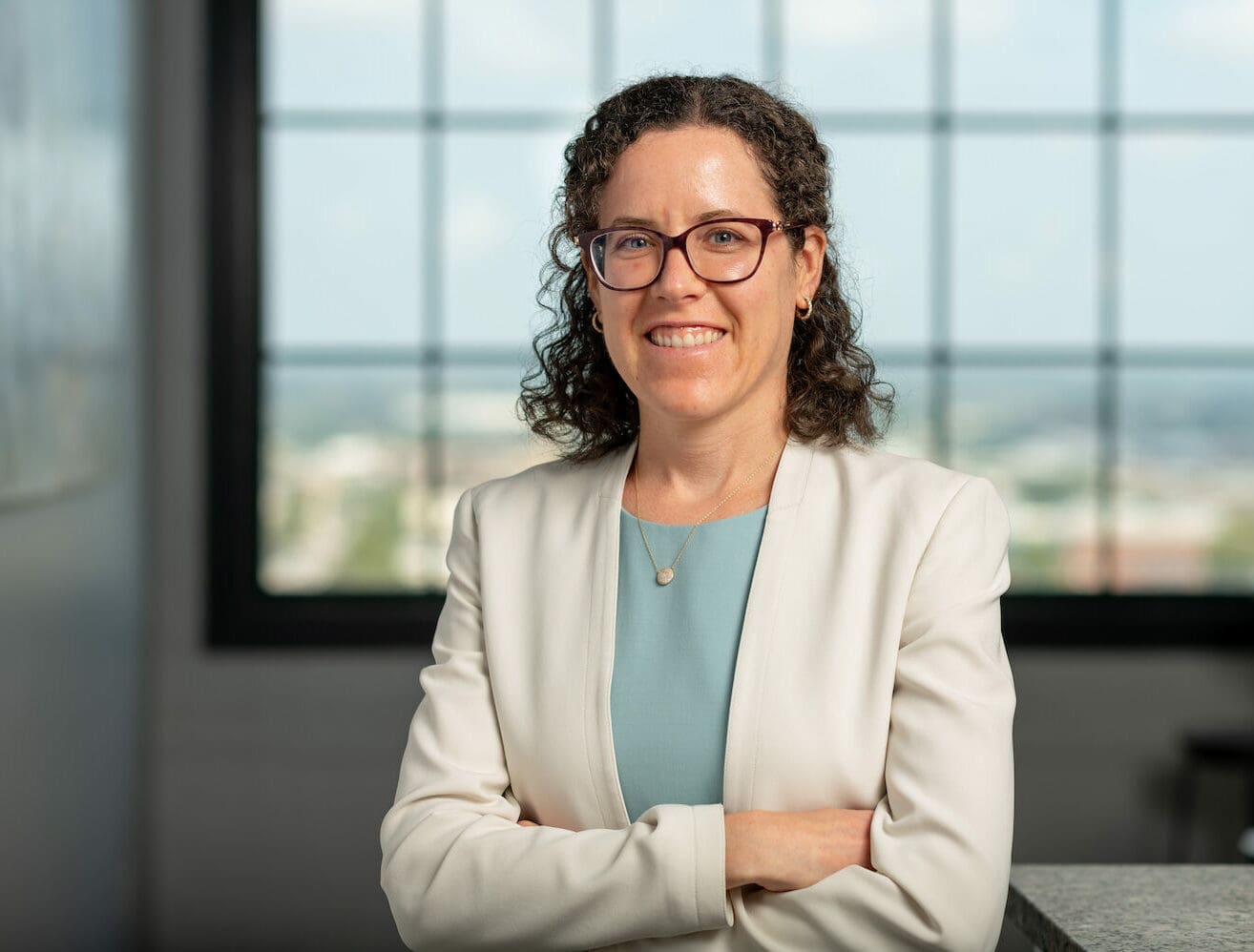 Katie Kieran
Vice President
Katie has advised many middle market business owners on how to create value and optimize the outcome when they're ready to sell, drawing on her strong analytics, strategic, and financial modeling skills.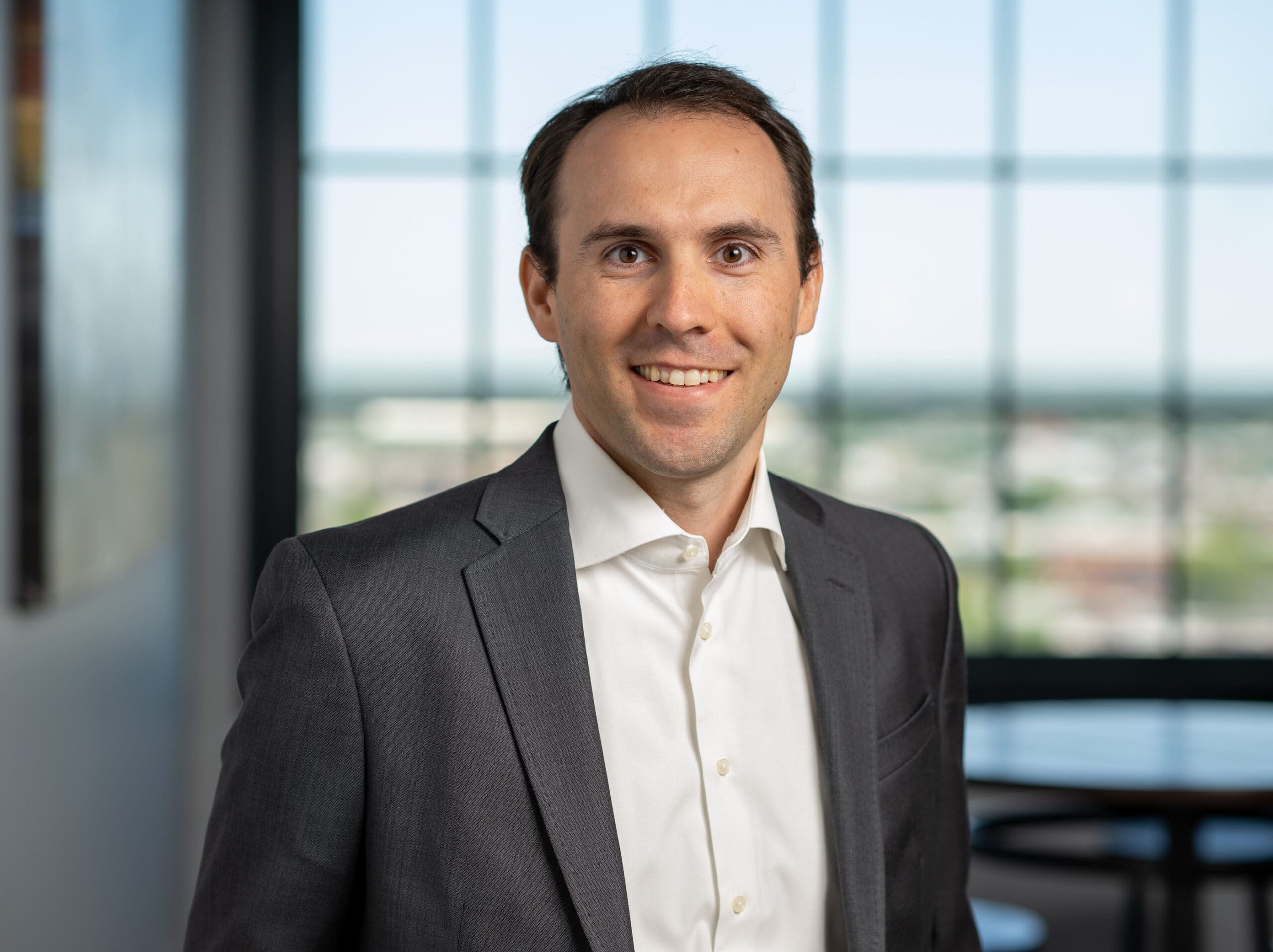 Andy Spears
Vice President
From assisting high-growth market leaders through sale processes to advising companies struggling with cash flow issues, Andy has helped a breadth of companies realize their strategic goals for more than a decade.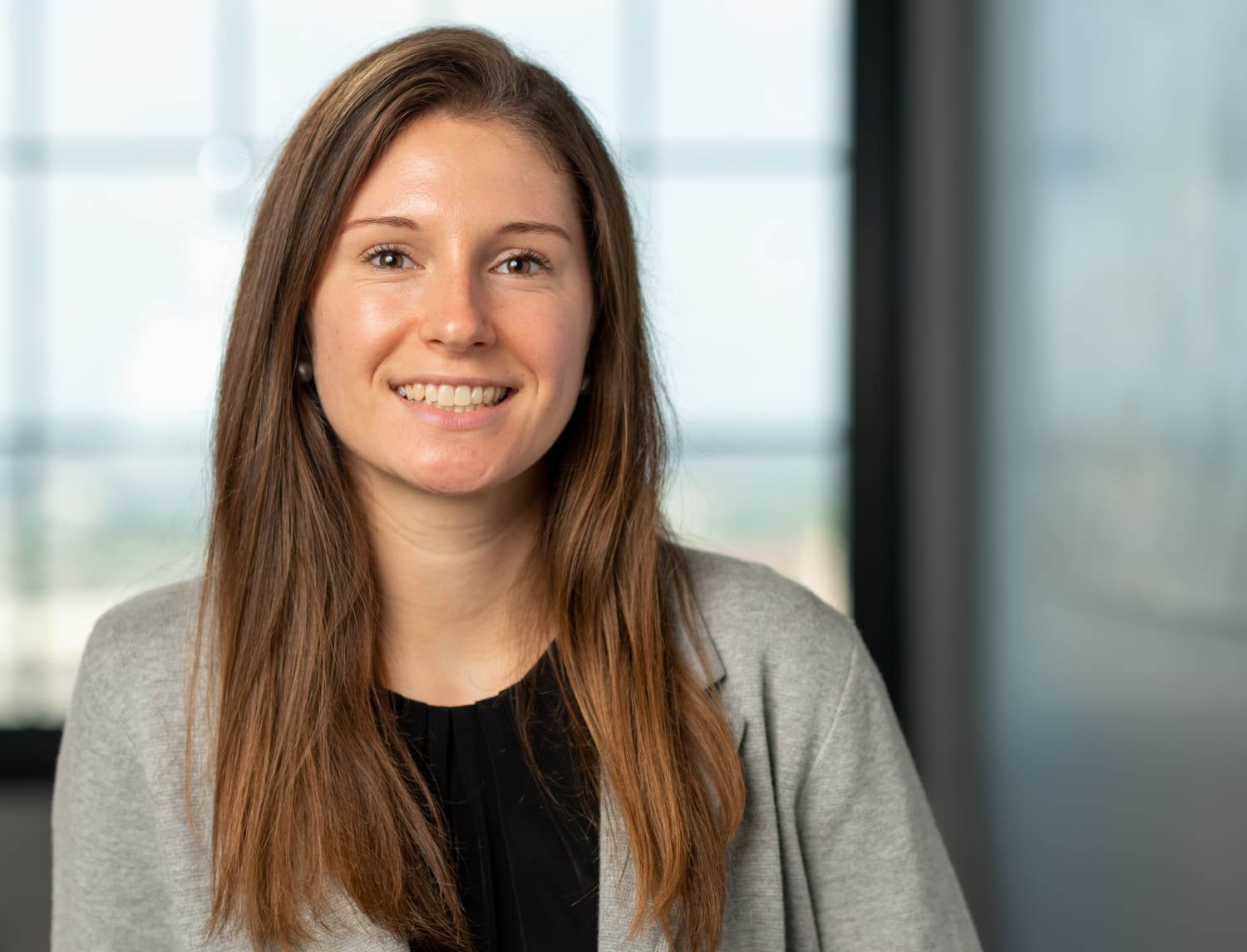 Meghan Daley
Associate
Meghan assists on the development of business valuations and strategic assessments, helping clients create and enhance business value, and developing ownership opportunity plans. Learn more about her experience:
Schedule a meeting with an advisor today.