INDUSTRY UPDATE | Q3 2022
CCA releases quarterly updates regarding relevant market insights for the Defense and Government Contracting space. Interested in receiving the updates via email? Subscribe here.
CCA provides customized investment banking and corporate advisory services to middle market companies in the mid-Atlantic region. No matter where you are in your business life cycle, CCA can help you build shareholder value and achieve outcomes that best suit your goals. In the last 18 months, CCA has completed:
exclusive sell-side
advisory deals
strategic assessments
completed
valuations and marketability studies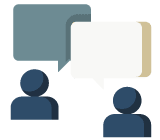 Corporate Advisory Services
The CCA Corporate Advisory team takes a holistic approach that's proven to help businesses create sustainable value through the right combination of strategy and execution. Our process is rooted in a structured, proprietary, data-based approach that leverages the most robust analytical tools and methodologies.
We start by assessing the value and marketability of your business—arriving at an objective business valuation that serves as the essential foundation for determining how to enhance that value through strategic initiatives.
Then we use our proprietary framework to evaluate and arrive at the optimal strategic alternatives to help you achieve your goals. If a business succession or exit is in your plans, our team will help you explore the best options to set you on the right path and ensure a smooth transition—so the business is ready when you are.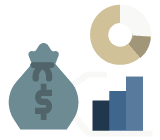 Investment Banking Services
Whether you're buying or selling a business, looking to recapitalize, or seeking new capital to fuel your growth, CCA understands the importance of this transaction in the life of your company. You need an investment banking expert you can trust wholeheartedly to guide you through a complex process and achieve a successful outcome.
Clients have trusted CCA as their investment banking advisor for 30+ years. When you choose CCA as your investment banker, your goals become our goals. We take a comprehensive, holistic approach to achieving the most successful transactions, both domestically and across borders—from preparing you to go to market, through the process of negotiating and closing a deal that produces the optimal results.
Defense & Government Themes and Perspectives
The first three quarters of 2022 saw increased volatility in the capital markets, with an increased focus on quality deals.
Fed Raises Fed Funds Rate
The Fed raised the federal funds rate by 75 bps to the 3%-3.25% range during its September meeting, the third straight three-quarter point increase and pushing borrowing costs to the highest since 2008. Policymakers also anticipate that ongoing increases in the target range will be appropriate.
Valuations Under Pressure
The IPO market is very quiet, and tech firm valuations have lowered in the last year. There is still capital that needs to be deployed but buyers are becoming a bit more selective. With the increase in interest rates, PE groups will place additional focus on a targets' ability to service debt.
Contract Awards Slide to the Right
For a variety of reasons such as turnover, the desire to work from home, and the great resignation, many Federal Agency contracting organizations have experienced high turnover. This lack of resources has increased the time in Source Selection and has pushed many awards to the right.
A&D companies seem to be looking at niche acquisitions to fill a specific need rather than any megamergers. Gov't Services, remain acquisitive (especially PE backed strategics) as the battle for labor continues and a historically slow contract award condition adds pressure on managers to meet their quarterly targets. Impacting the market has been the poor performance of SPAC transactions as well as political tension in Europe and Asia.
Dry powder in private equity sits around $1.2 trillion as of Q3 2022, according to Pitchbook. Its current rate is down slightly from its previous record, $1.8 trillion, at the beginning of 2022. Roughly half of the capital was relatively "fresh," according to Pitchbook (2019 or later). The level of dry power to unrealized assets remain at ~30% for the 10th straight year meaning firms are investing at about the rate they're raising capital.
The Federal Reserve's second-quarter survey on bank lending practices released on August 1 found a significant net percentage (24%) of senior loan officers surveyed reported tightened standards for commercial and industrial loans (C&I) to large and middle market companies. And a net 12% of banks increased the spread between their cost of funds and the interest rate they charged on C&I loans.
Companies serving the Intelligence and Cyber Markets encompass a wide range of offerings with a diverse set of skills and market segments. From Artificial Intelligence and Machine Learning to Cybersecurity and support for the war fighter, the people that make up these technology companies are actively involved in national security. Along with these "pointy edge of the sword companies" are support industries in staffing, construction, finance, and legal which serve to support the infrastructure, financial, and legal needs of this community.
ManTech Announces
Leadership Changes
COO Matt Tait has been appointed CEO and succeeds Kevin Phillips, who led the company as chief executive for nearly four years and will keep his title as chairman of the board. Phillips was ManTech's COO from 2016-18 and before that was CFO from 2005-2016. He joined the company in 2002 through its acquisition of CTX Corp.
Booz Allen's Anti-Trust Suit Wrapped Up
The Justice Department in June sued to block Booz Allen from acquiring EverWatch.  In its complaint, the government alleged the combination would imperil market competition, but a federal judge declined the DoJ's request for an injunction to block the merge on anti-competitive concerns.
The Justice Department in June sued to block Booz Allen from acquiring EverWatch. In its complaint, the government alleged the combination would imperil market competition, harm taxpayers and crimp services provided to the NSA. Resolution of the suite is expected in October.
Vertex Completes Merger with Vectrus (V2X)
The transaction creates a 14,000-employee company focused on providing technology-enabled services for government programs such as logistics and training. V2X also has highlighted aerospace and other platforms as a growth channel for the merged business. American Industrial Partners holds approximately 62% of the stock, while Vectrus' shareholders have the remaining 38%.
National Cryptologic Museum Opening
As NSA's principal gateway to the public, the newly renovated museum will provide a unique opportunity to engage with cryptologic history in fresh and innovative ways – transporting visitors on a journey from the ancient world to present day exploring the dynamic role of cryptology in shaping our history. Located at the edge of NSA in Annapolis Junction, Maryland, the museum reopened on October 8th.
Verification of VOSB Changes
The Small Business Administration (SBA) is proposing to amend its regulations to implement a statutory requirement to certify Veteran-Owned Small Business Concerns and Service-Disabled Veteran-Owned Small Business Concerns participating in the Veterans Certification Program. The rule, if finalized, would establish a federal governmentwide certification program for VO SBCs and SDVO SBCs.
The Intelligence Community Budget
The United States Intelligence Community is a group of separate United States government intelligence agencies and subordinate organizations that work separately yet together to conduct intelligence activities to support the foreign policy and national security of the United States.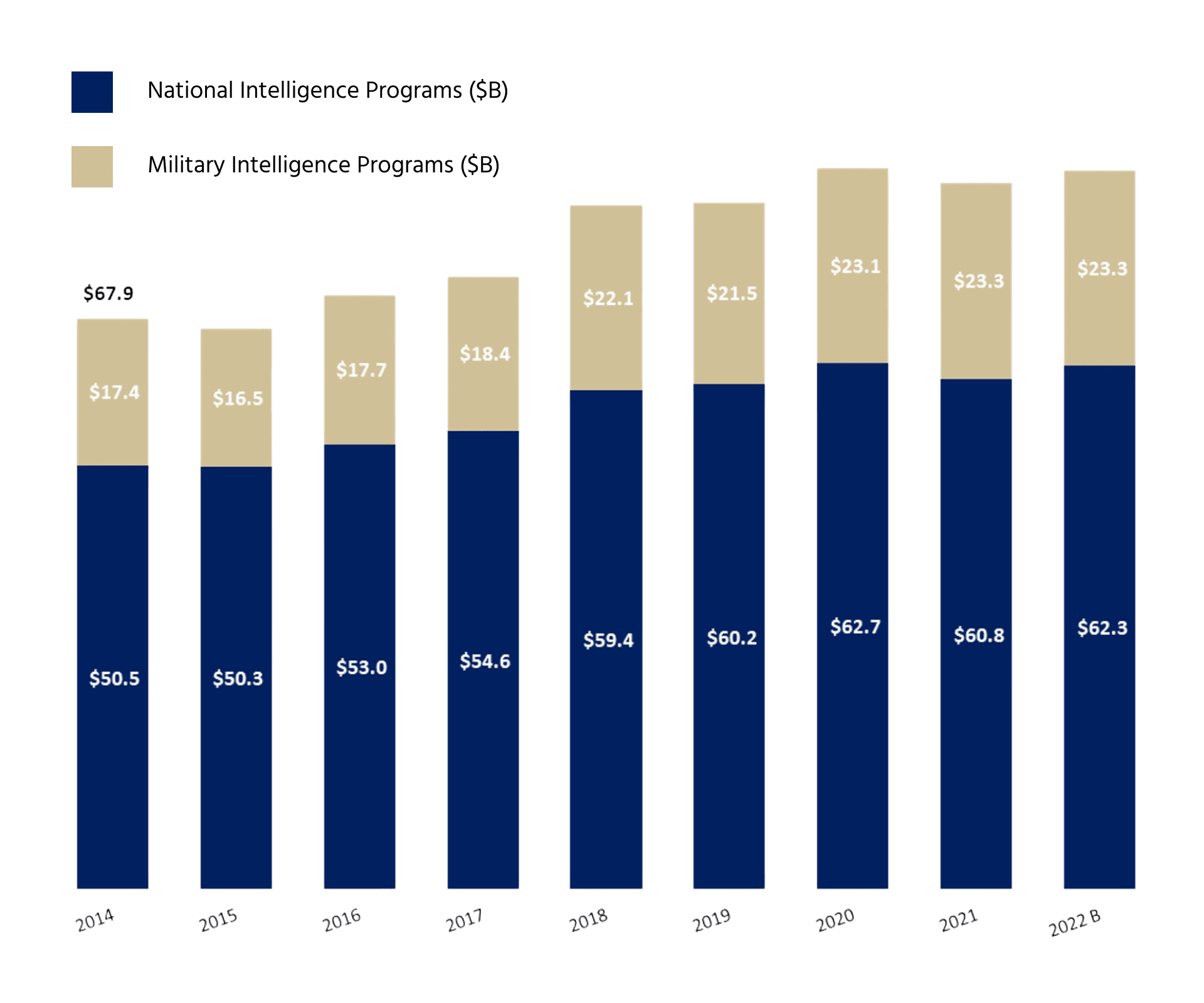 The National Intelligence Program (NIP) includes all programs. IC programs are funded through the: (1) NIP, which covers the programs, projects, and activities of the IC oriented toward the strategic requirements of policymakers, and (2) Military Intelligence Program (MIP), which funds defense intelligence activities intended to support tactical military requirements and operations.
A program is primarily NIP if it funds an activity that supports more than one department or agency (such as satellite imagery), or provides a service of common concern for the IC (such as secure communications). The NIP funds the Central Intelligence Agency (CIA) and the Office of the Director of National Intelligence (ODNI) in their entirety, and the strategic intelligence activities associated with departmental IC elements such DOD's National Security Agency (NSA).
A program is primarily MIP if it funds an activity that addresses a unique DOD requirement. Additionally, MIP funds may be used to "sustain, enhance, or increase capacity/capability of NIP systems." The DNI and USD (I&S) work together in a number of ways to facilitate the integration of NIP and MIP intelligence efforts. Mutually beneficial programs may receive both NIP and MIP resources.
Recent Transaction Highlights
EV/EBITDA Public Valuation Multiples
As we monitor the Government Contracting Industry, we have classified some of the largest government contractors into three main industry sub sectors defined below.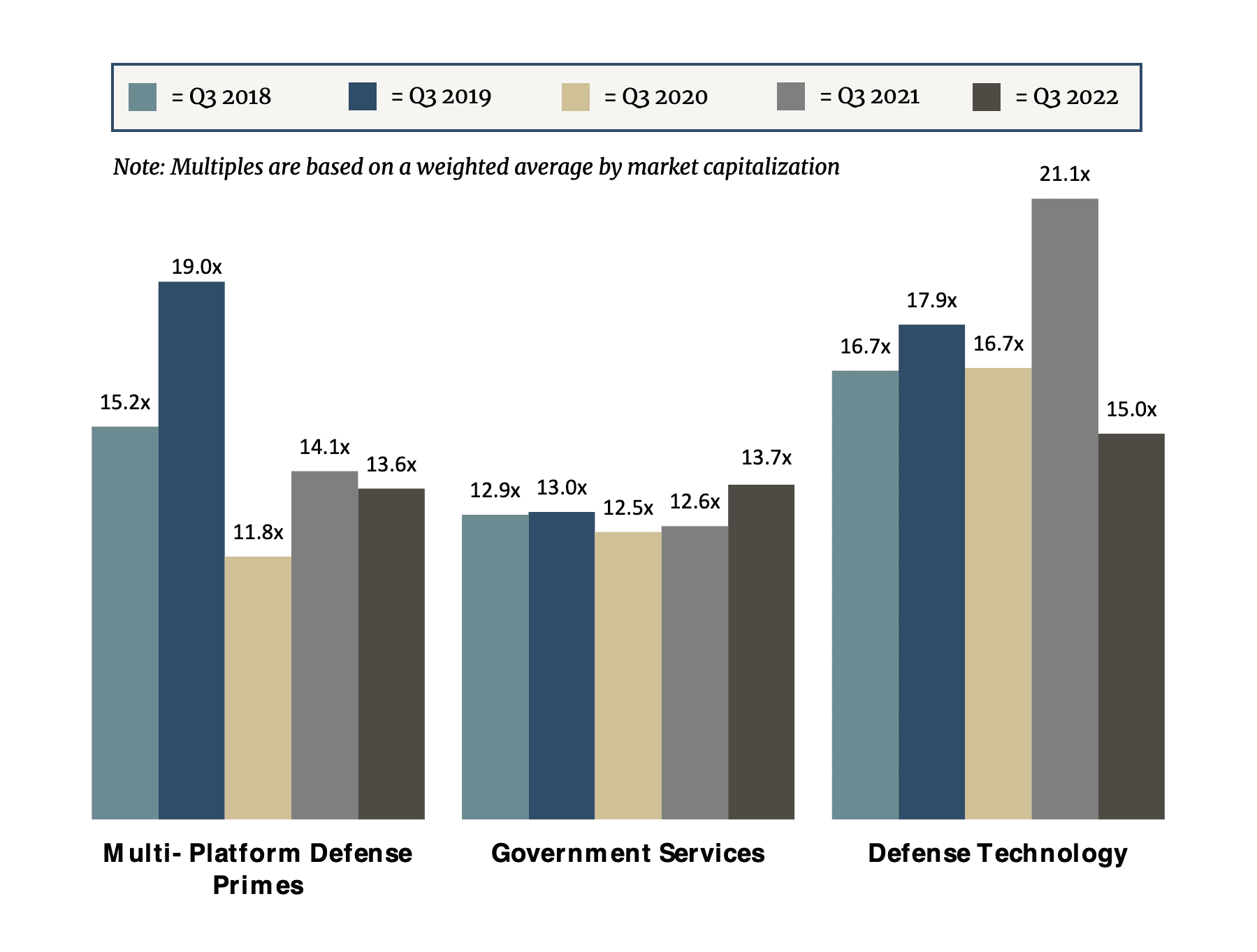 Multi-Platform Defense Primes
Companies typically involved in the interdisciplinary fields of engineering and engineering management in the delivery of defense-related products and services. This includes, but is not limited to weaponry, munitions, electronics, and cyber-related products and services.
Note: Boeing's TEV/TTM EBITDA multiple has been not meaningful due to low or negative earnings

Government Services
Government contractors focused on the delivery of professional services. These services typically augment or support engineering, IT and software development, cyber security project-based initiatives or bolster the Government ability to provide for the national defense.
Note: Vectrus and Vertex combined in July 2022. Multiples prior to 2022 are Vectrus, while Q3 2022 is V2X.

Defense Technology
Defense prime contractors specialize in the design, construction and support of defense-based products and services. Their work with the Federal Government is typically in a prime contracting relationship as they manage their supply chains and furnish services, supplies or construction to the Government.

Source: S&P Capital IQ Data as of 09/30/2022
CCA Government Services Indices Stock Performance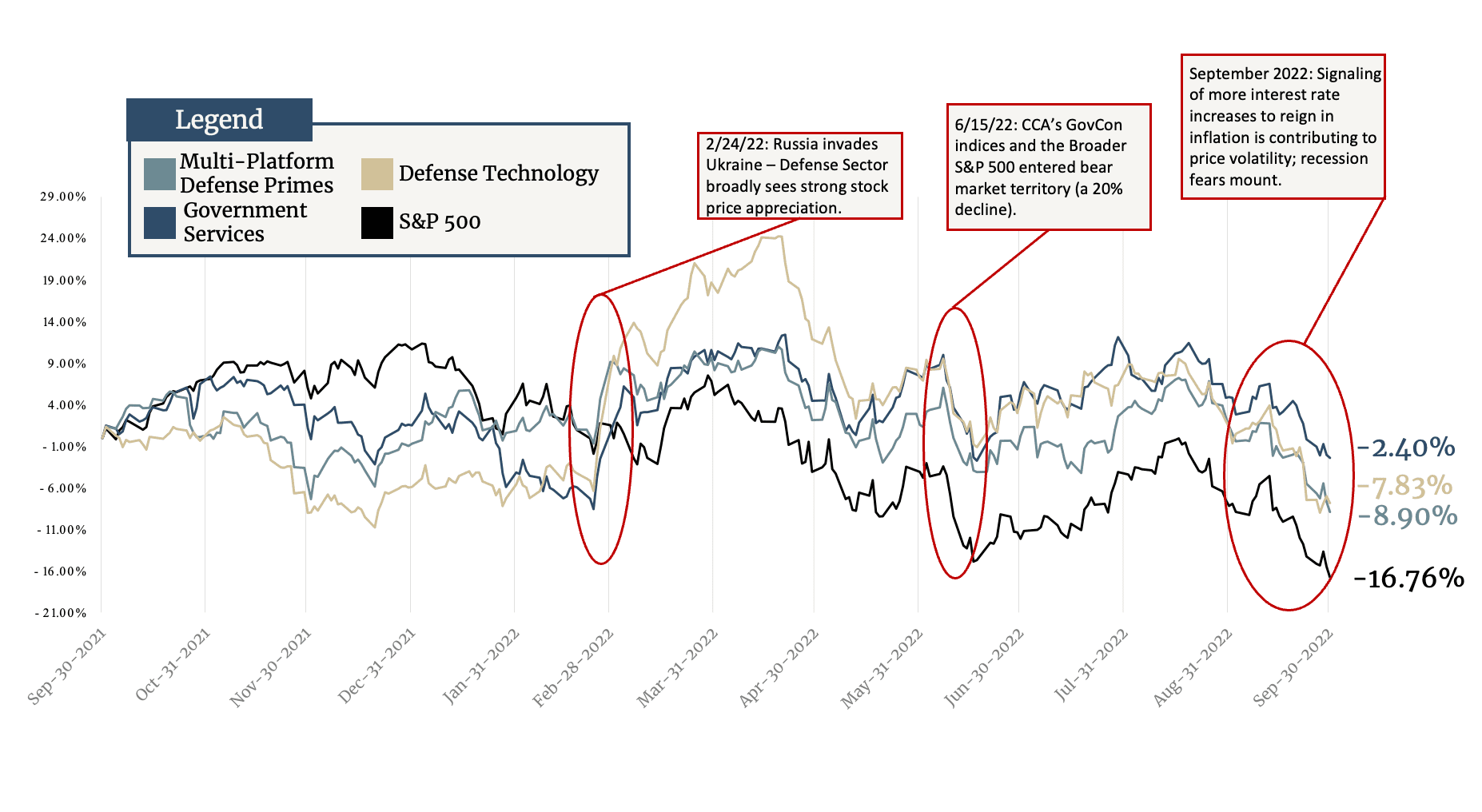 Government Services, Multi-Platform Defense Primes, and Defense Technology indices have overperformed the broader market (S&P 500) by at least ~750 basis points over the past year, offering stability during troubled times. The Government Services index decreased by just 2.4% from a year ago.
Concerns of global military conflict remains an issue as the war in the Ukraine continues with Russia annexing four Ukrainian provinces on 9/30/2022 and tensions between China and Taiwan deteriorating, causing further market instability.
How CCA Helps Government Contractors
Strategy &
Corporate Advisory
Chesapeake Corporate Advisors​ provides a framework for business owners to focus on building sustainable value and to explore their succession and exit alternatives. We use our proprietary tools and methodologies to assess the market and maximize value through strategy.
Investment Banking
Services
CCA is a leading investment bank with extensive expertise in mergers, acquisitions, divestitures, and corporate advisory. We use a comprehensive approach to assist clients develop and execute a buy-side, sell-side or recapitalization strategy domestically and in cross-border transactions.
Business Valuations &
Financial Opinions
At CCA, understanding shareholder value is at the center of everything that we do. Our analysis considers the feasibility of mergers, acquisitions, divestitures, ESOPs, management buy-outs and recapitalizations. We provide an objective, assessment of value that is deeply rooted in qualitative and quantitative analysis using our proprietary methodologies.
CCA's Government Contracting team is a blend of Corporate Advisory, Investment Banking, and Government Contracting Executives.  We have worked with dozens of companies in projects ranging from Sell Side Investment Banking, to Ownership Alternatives, to Valuations to Boards of Directors.

The CCA Government Contracting Team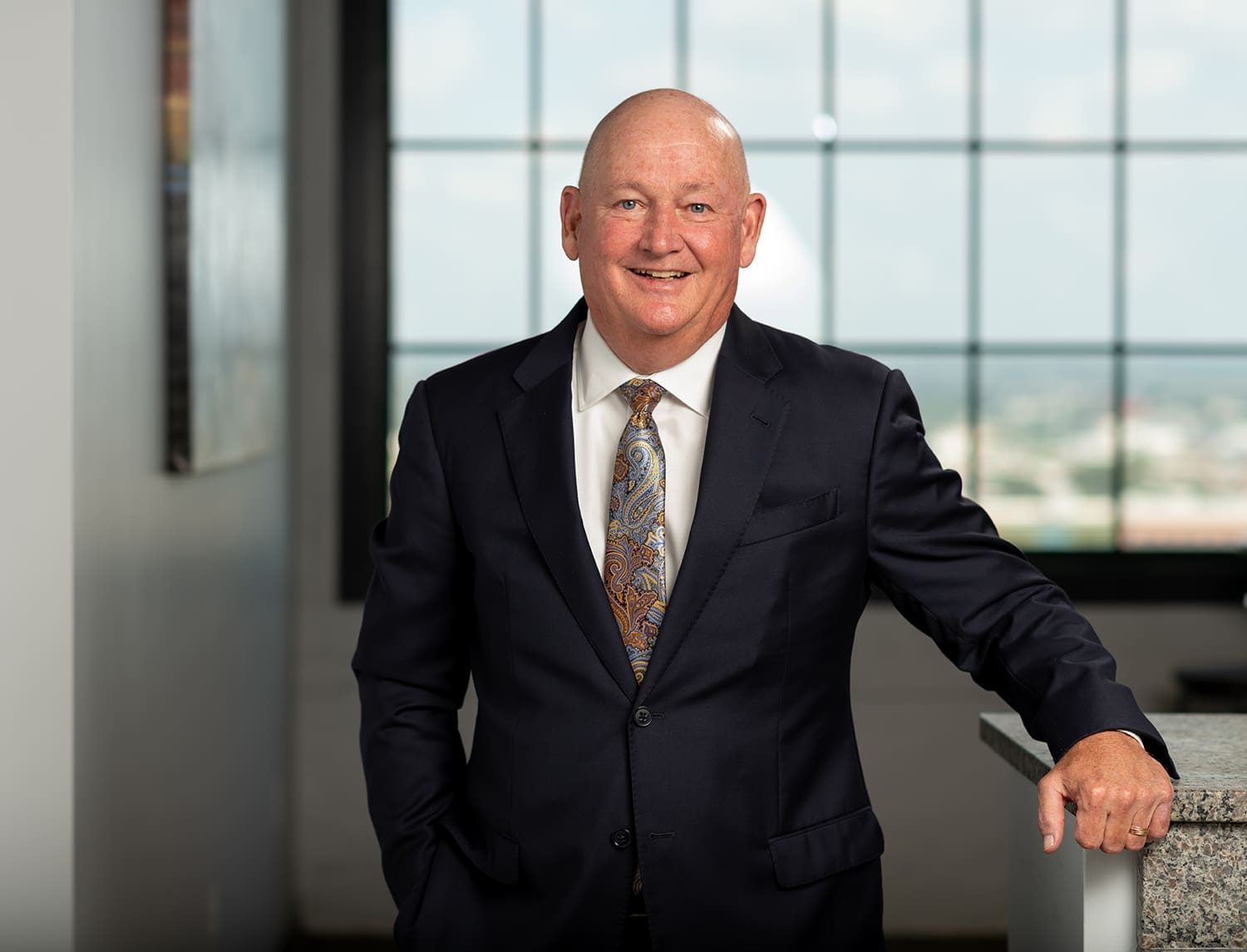 Charlie Maskell
Managing Partner
Charlie leads the CCA teams dedicated in assisting businesses enhance shareholder value and position themselves to sell to a strategic buyer, recapitalize with a private equity investor transition through an internal transaction.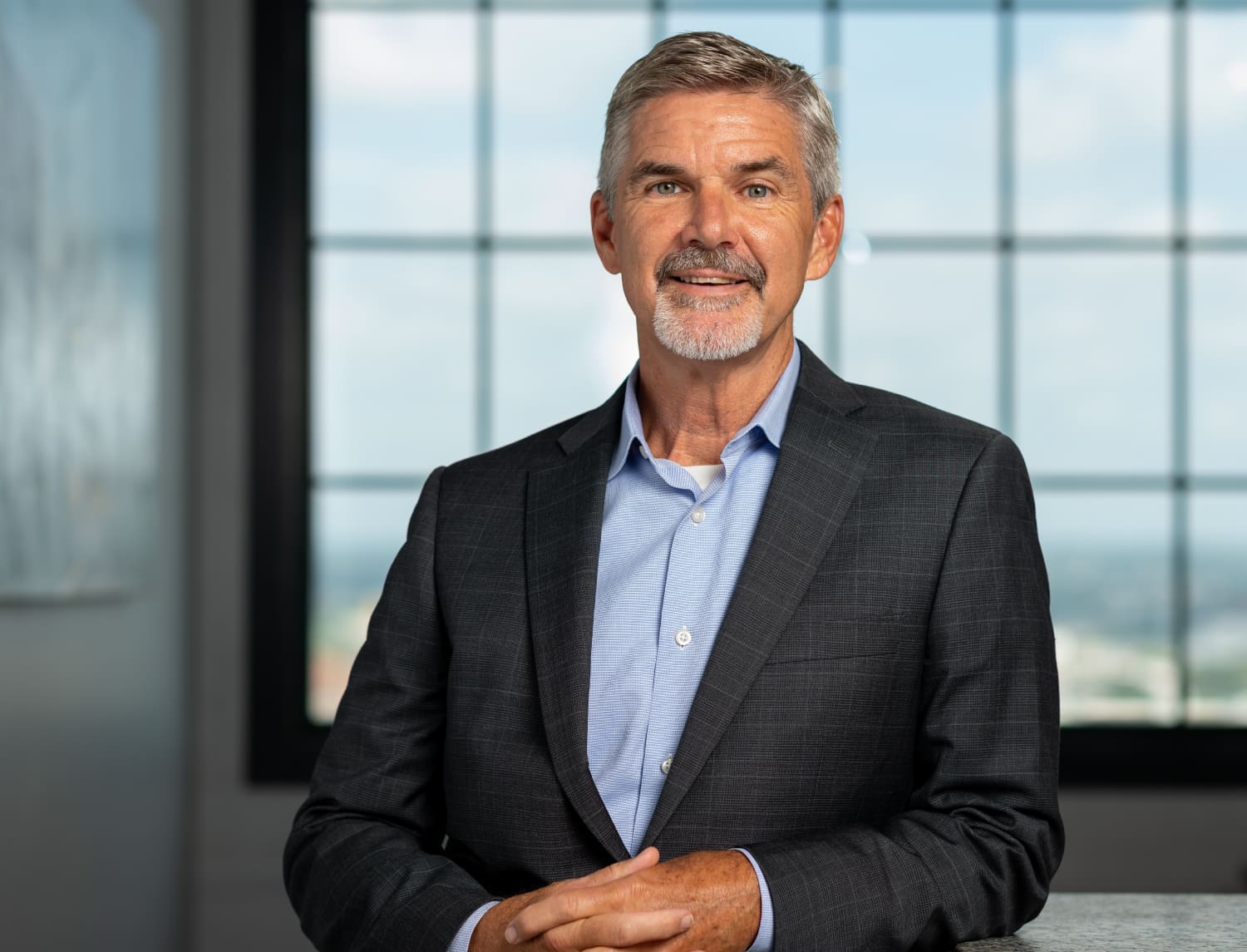 Martin O'Neill
Managing Director
CCA clients appreciate that Marty has walked a mile in their shoes, having spent 30 years as a business leader in companies of various industries and sizes before joining CCA as an advisor to middle market businesses.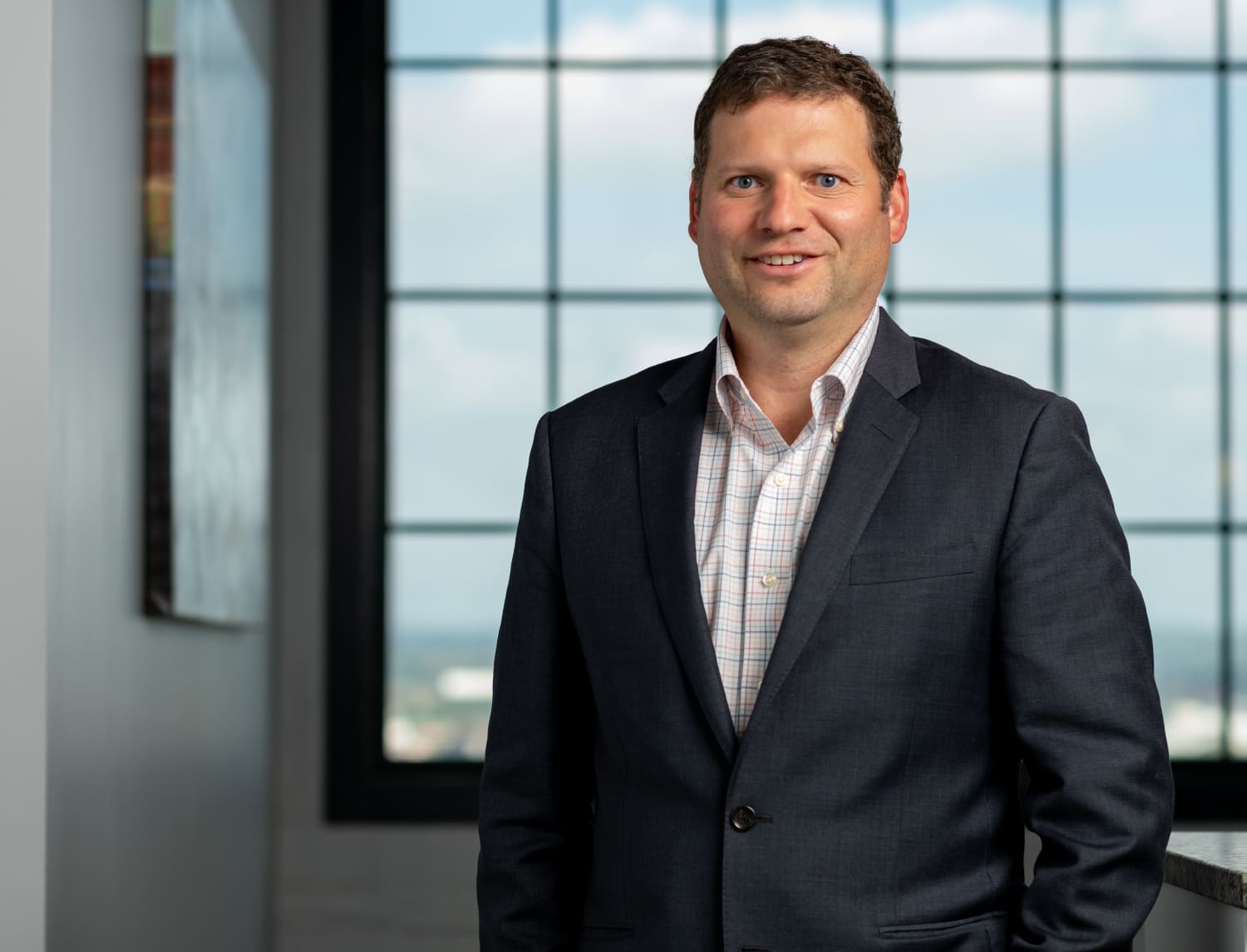 Michael Zuidema
Managing Director
In leading corporate advisory engagements for our clients, Mike draws on his extensive experience and track record of serving middle-market and privately-held businesses. Mike Zuidema takes an approach that's proven to achieve results.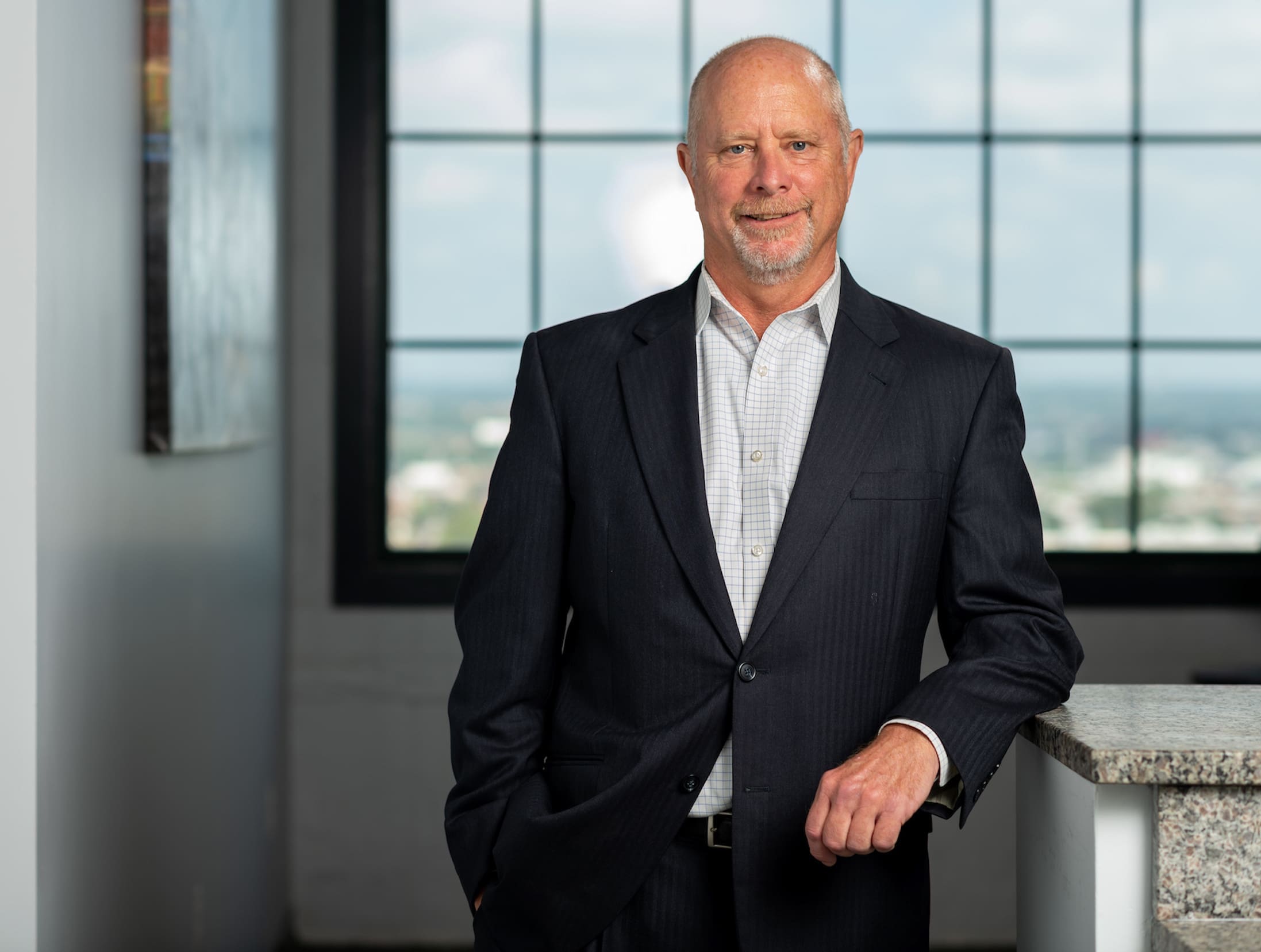 Allen Stott
Managing Director
Allen leads investment banking engagements for clients in the Mid-Atlantic region, leveraging his experience to help business owners achieve the best outcomes when ready to sell.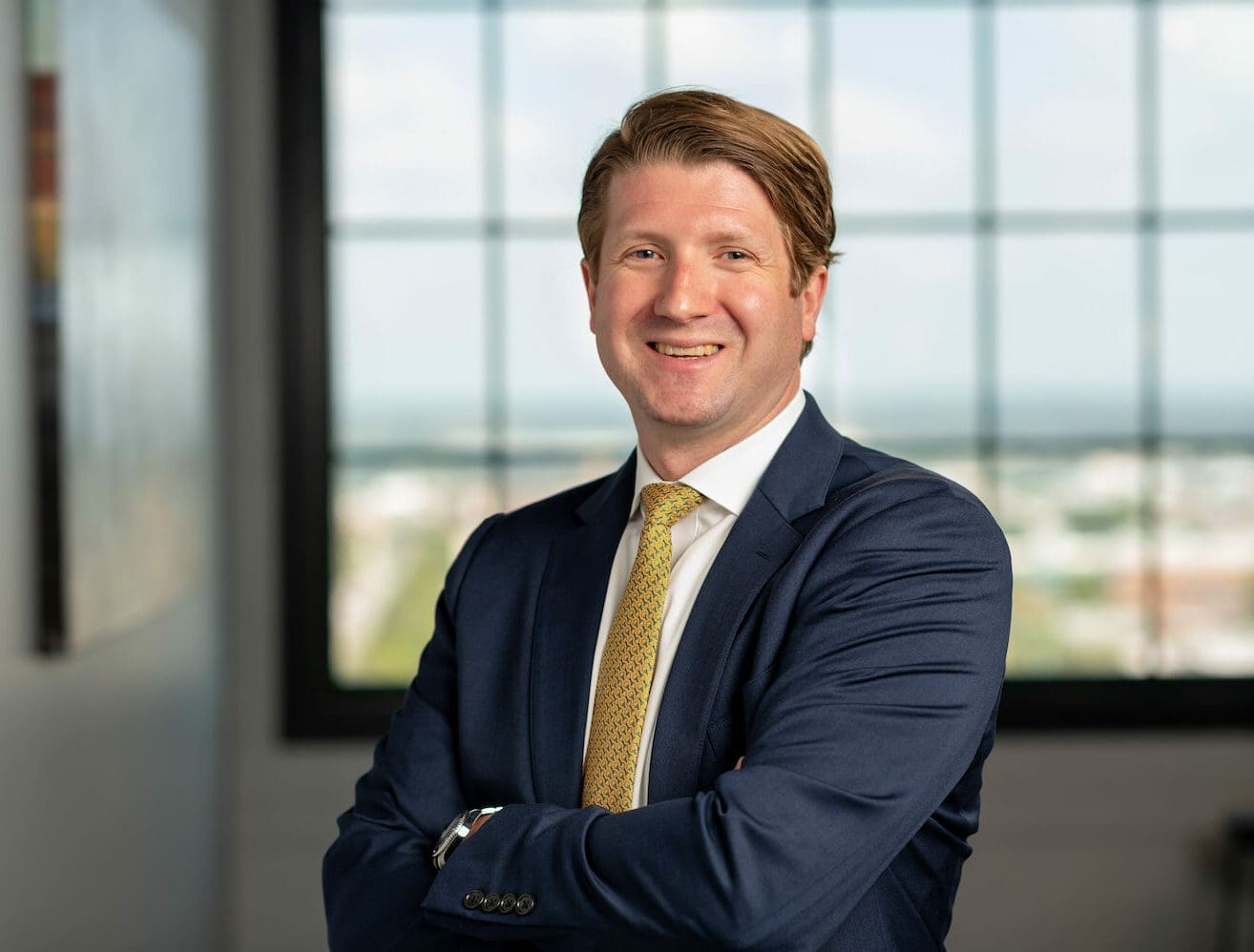 Tim Brasel
Director
Tim leads the day-to-day management and execution of many of the deals CCA transacts for its clients. He's helped lead and guide the sale and acquisition of numerous middle market companies.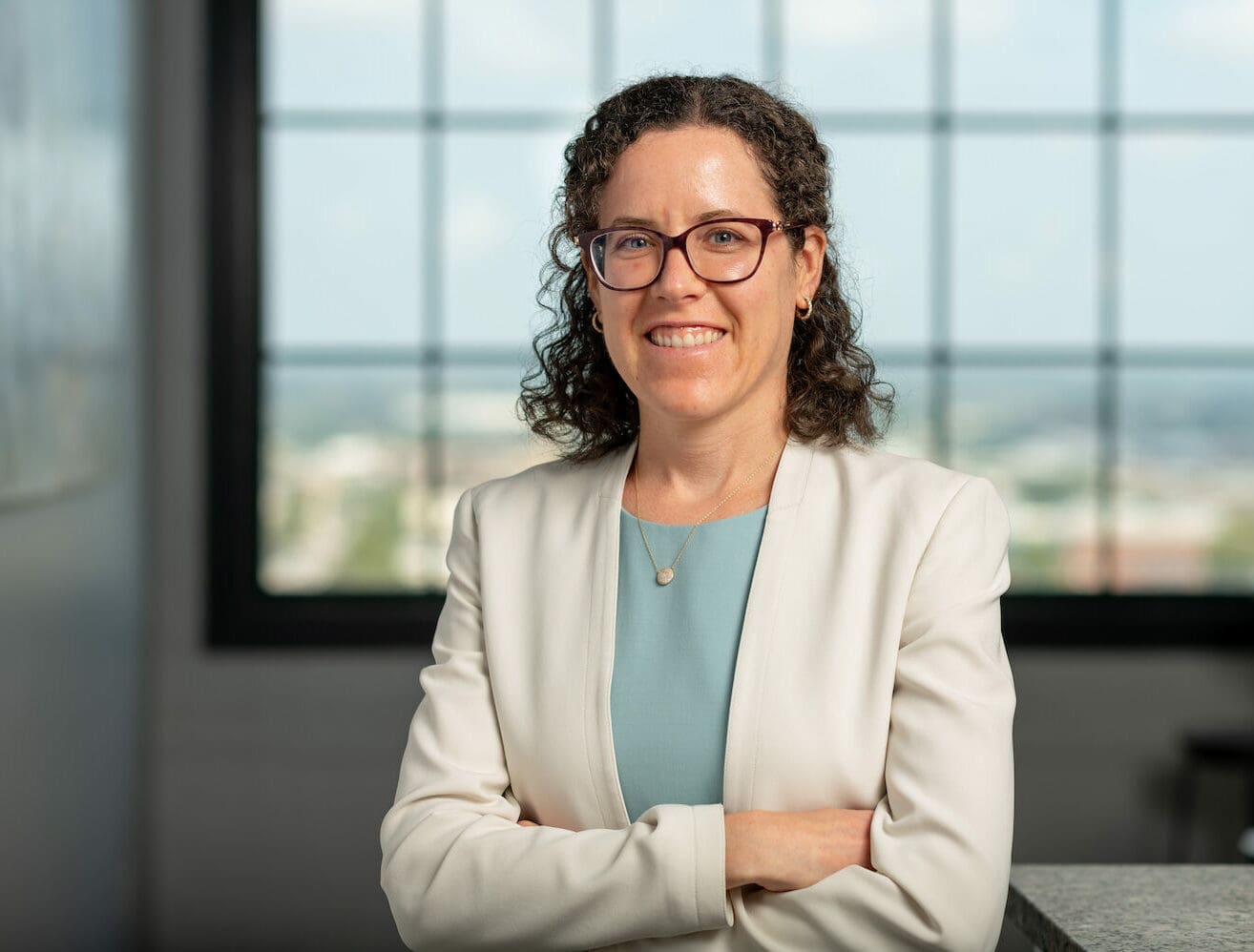 Katie Kieran
Vice President
Katie has advised many middle market business owners on how to create value and optimize the outcome when they're ready to sell, drawing on her strong analytics, strategic, and financial modeling skills.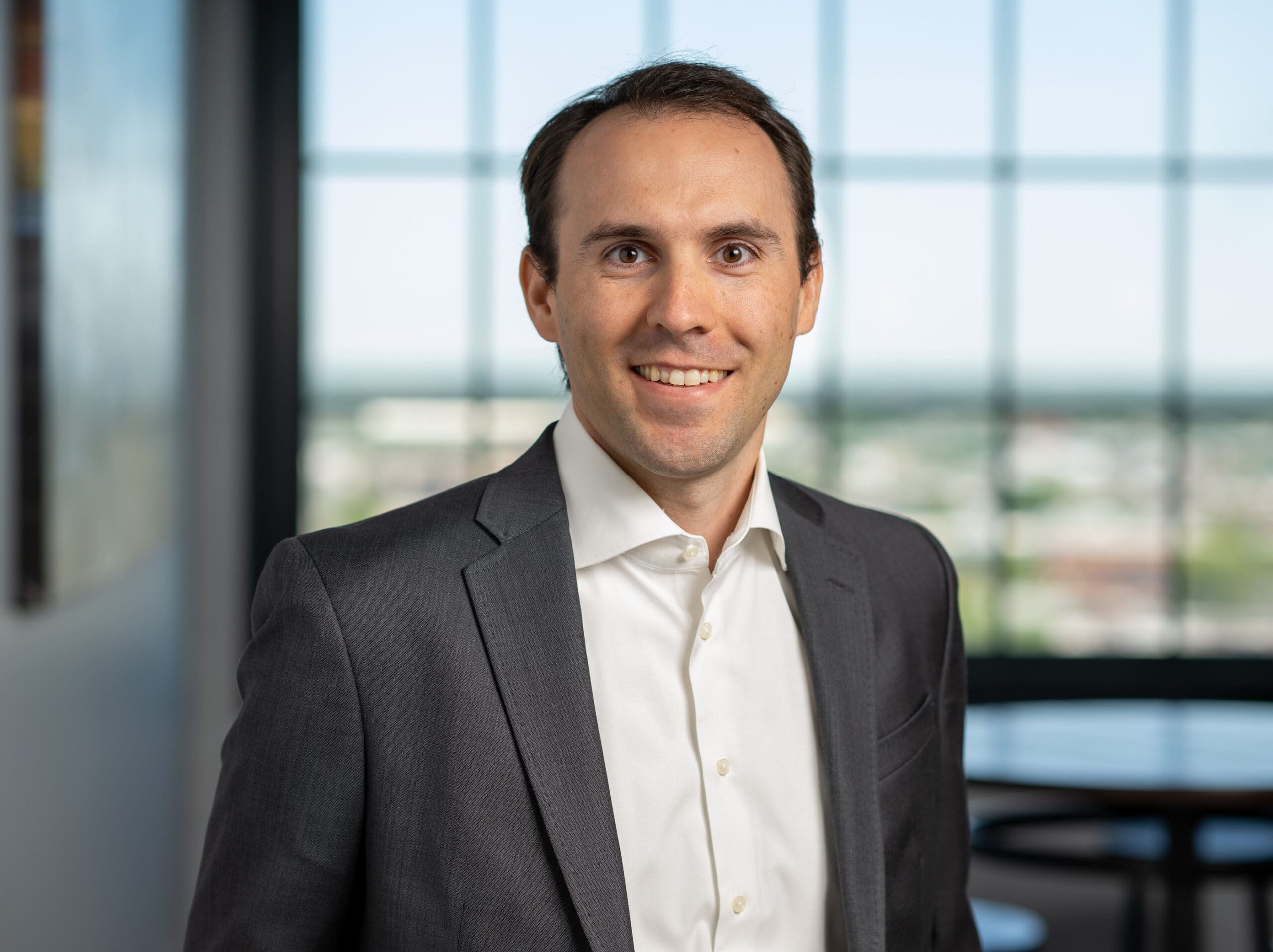 Andy Spears
Vice President
From assisting high-growth market leaders through sale processes to advising companies struggling with cash flow issues, Andy has helped a breadth of companies realize their strategic goals for more than a decade.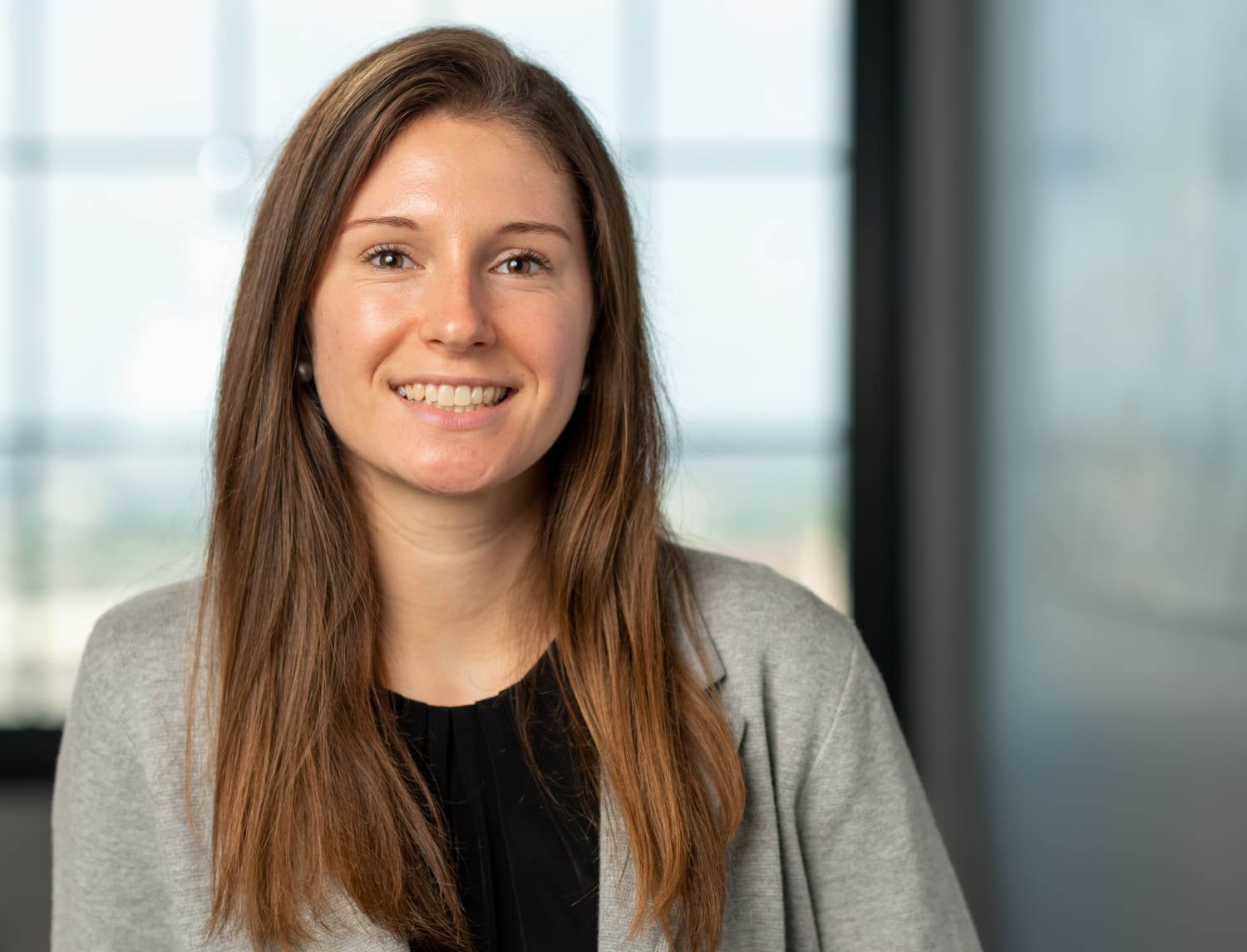 Meghan Daley
Associate
Meghan assists on the development of business valuations and strategic assessments, helping clients create and enhance business value, and developing ownership opportunity plans. Learn more about her experience:
Subscribe to Receive Industry Updates
Schedule a meeting with an advisor today.